Yak, pictured here on his first day at FTA.

I joined the air cadets at aged 13. You get to fly about once a year and that was my first experience of flying.

My first time flying it was in a Grob Tutor and the instructor asked: "so what do you want to do?" and I replied "I want to do aerobatics" and we did it. It was out of this world!

Flying at that stage however, was not a realistic option, we are a normal family so it seemed as though it was always going to be a dream. Then, when I was 14 I heard about a scholarship at the local airport. Cotswold airport offer a two-week flying scholarship each year for 10 lucky candidates.
I CAN'T REMEMBER WHEN I FIRST DECIDED I WANT TO FLY, I MUST HAVE BEEN TWO OR THREE YEARS OLD, I JUST KNOW THAT I'VE WANTED TO BE A PILOT FOR AS LONG AS I CAN REMEMBER.
The scholarships are designed to give those interested in flying a 'taster' by flying all types of aircraft, including helicopters and having the opportunities to do some exciting visits! You have to send of an application and if you are lucky you will be called in for an interview when they will then select the lucky 10! I was accepted and so excited about the experience but the week before I was due to start at Easter however due to unforeseen circumstances it had to be postponed for 6 months and unfortunately I wasn't free until the following year. I was crushed but when I eventually did the scholarship it was an amazing experience – like nothing else. After the two weeks I knew that it was all I wanted to do.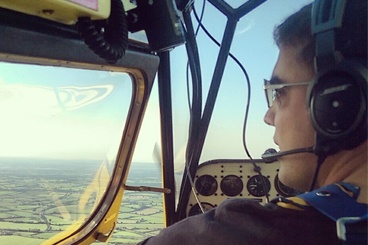 School was never my thing growing up and I was never a huge fan of it. All I wanted to do was fly and the only thing I enjoyed about being at school was sports. I was quite good at athletics and eventually needed to make a decision between pursuing training in the athletics or flying. It was a shame to have to give up the athletics but pilot training was where my heart was.
When I was 16 I was fortunate enough to be offered a place on a gliding scholarship with the Air Cadets which gave me the opportunity to learn to fly gliders and fly solo and this was a great experience into a different part of aviation that I hadn't yet experienced.
We didn't have the money for me to do an integrated course so my parents found the money for me to do one lesson a month. But the problem is if you have 4 weeks between each lesson you need to recap at the start of each lesson before you can get on with learning something new. You need 45 hours of flying to do your PPL and 12 hours a year simply wasn't enough and my progress was too slow. It was incredibly frustrating, however together we worked around this problem finding away to increase the amount of times I could fly a month.
I finally got my PPL aged 17 – just before I got my driving licence which was a fantastic achievement!
Knowing that I wanted to be pursue my career as a pilot, I sat down and discussed it the options with my parents. I had their full support and they decided to re-mortgage the house so that we could afford my training.
So, in 2014 I started my hour building. I didn't want to gain my hours just flying around in loops so through my flying school I decided to do something slightly different and make an adventure out of it. I have had the opportunity to fly every corner of England flying as far north as the top of the Shetland Islands and having some fantastic adventures around Scotland, some of our neighbouring countries and some very cool airstrips! I've also had fantastic opportunities to do plenty of formation flying. I also decided in the summer of 2015 to do something different and start my aerobatics training to work towards my aerobatics rating and I found this really improved how I fly as well as being a lot of fun!
| | |
| --- | --- |
| | |
| | |
I worked part time in various jobs to help earn some money. I worked as a labourer, John Lewis, at a recycling plant, and at a food wholesale company… basically did anything to earn some money and save towards my training.
MY FIRST BIG CHALLENGE WAS TO COMPLETE MY ATPL THEORY.
I chose a school in Oxford and moved there. I really dreaded having to start the ATPL exams like most people, and I felt I was at a disadvantage as I was never really an academic person, however this just gave me the push to work 10x harder and put my all in as this a hurdle I had to overcome if I was to pursue a career as a pilot. I remember on the first day being handed 20KG of books and being told "see you Monday" and that is when I knew it was time to start the hard work. The best advice I could give for anyone taking this exams now or in the future is from day 1 put your all in right through to the end and don't slack off, even if you're not academic it will really pay off.
The days were long, and the evenings of studying were even longer. It was far from ideal but you just get on with it and on the way you will make friends who you end up studying with and end up helping each other out. After 6 months and passing my ATPL theory with scores I couldn't believe, I returned home to look for a school to complete my training.
I NEEDED TO FIND A TRAINING SCHOOL NOW WHICH WAS A REASONABLE PRICE AND PROVIDED WHAT I NEEDED.
I did a lot of research online and contemplated finishing my studies in Poland where the courses are cheaper, however I really wanted to complete my training within the UK so that option was soon out of the question.
With the UK having some of the busiest airspace I thought this is a golden opportunity to learn to fly commercially here.
I looked at the different training providers in the UK and visited a few and was shocked at the length and cost of the MEP, ME IR, ME CPL, and MCC modules. Some schools charge over £44,000 and I learned that as a modular student you are deprioritised over the full time integrated students paying £90,000 or more. The courses also took over 6 months to complete which just seemed crazy. When I found FTA I couldn't believe the value, I had to blink twice to check I was seeing it correctly. The combined price for the MEP, ME IR and ME CPL was just £21,950 and I would be able to complete it in 12 weeks. I booked a visit of the school and knew as soon as I arrived that it would be the right one for me. After the tour, FTAs Student Welfare Officer, Cheri put me in touch with landlords and hosts offering accommodation. I visited one place and returned in the same day to book my space. I began my course the following week.
THE TRAINING WAS FANTASTIC, AN EXCELLENT FLEET OF AIRCRAFT WITH SOME FANTASTIC INSTRUCTORS WHO REALLY ENJOY HELPING YOU PROGRESS AND LEARN. THE ATMOSPHERE AT FTA IS LIKE NO OTHER. EVERYONE IS VERY SUPPORTIVE AND APPROACHABLE – EVEN THE SENIOR MANAGEMENT.
I then went on to pass my IR and CPL within 12 weeks and gained my f(ATPL) before my 20th birthday which since acquiring the training money became a goal of mine. All the hard work and sacrifice was worth it, and I am very thankful to my parents who I couldn't of done it without.
For me now the future is certainly flying. I don't mind which sector of aviation I go into as its all-great experience and you can learn a lot! My goal for now is to be hopefully employed within the next 6 months, weather it would be working for an airline, executive company, ferry flying or any of the others!
As long as I get to continue flying I will be happy. I have my whole life ahead of me.
Yak has supplied photos that he took whilst training (see below). It's easy to see why he loves flying.