We interviewed Matt, who has recently joined FTA instructing the ATPL Theory. Popular and enthusiastic Matt has wasted no time in making the role his own. Not long out of university, it could be daunting for a recent graduate to standing in front of a class of 15 or 20 students explaining the principles of flight such as lift augmentation or aerodynamic limitations. Still, he loves it: "I like to know I'm helping others understand and revise the content, it's a great feeling". He explains his gratitude for finding a role that enables him to continue with learning and progressing his aviation knowledge. FTA Global reward excellence and sponsor employees to increase their experience and progress with their career. First, he tells about how it all started:
"My school encouraged me to go to university, and I loved aviation, so chose to study aerospace engineering. I wanted to stay in aviation and still dreamed of becoming a pilot and so studying the subject in depth was a logical step.
I chose Brunel University and enrolled on the same course as some of my friends. I thoroughly enjoyed my time and was glad of the experience. I liked science at school, and I love aviation and flying, so completing a degree in aerospace engineering seemed like a good choice. While I always enjoyed flying, I did not see becoming a pilot as a realistic career opportunity."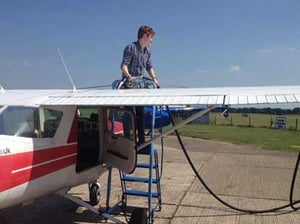 When did you fall in love with flying?
"I had a trial lesson when I was fourteen, and that is when I knew I wanted to fly. The experience was unforgettable and directed my training and education from that point. I trained from Wycombe Airport before completing my Private Pilot's Licence at Headcorn.
I moved to Tayside Aviation in Scotland to study my ATPL Theory. I just finished my degree and took the summer off before moving up North. When I finished my ATPL exams, the school had an opening for a ground school instructor, and they asked me to apply. It was not a job I had considered before, but I thoroughly enjoyed it and was grateful for the opportunity."
Matt completed his studies in six months and had high grades, and all first time passes, we asked him what his advice was to those studying for their ATPL exams.
"Events happened in my personal life that encouraged my girlfriend and I to move back down South. We started to look at roles close to home, and that is when I saw the role advertised with FTA. I would always advise students to understand the importance of the course material we cover. We want people to get a broad understanding of the topic, which they will then develop over their careers."
What do you like about teaching the ATPL Theory?
"I like teaching the ATPL subjects but also using what I specialised in at school. It is nice to meet new students and help big groups of people get to grip with the content.
I think the ATPL Theory came quite naturally for me because I had only had a short break from studying. I had the summer off after my degree, which meant I could relax, recharge my batteries, and get in an excellent place to go straight into studying again. I covered a number of the subjects in my degree (although to a much larger extent). This meant I had to learn what was needed specifically for the exams and ATPL syllabus and not get overwhelmed, delivering the full scope of each subject area.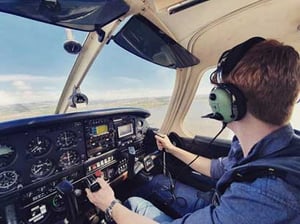 I think my degree assisted with my ATPLs and now teaching. As part of your degree, you develop and understand your learning style, which is invaluable when taking on large amounts of new information. With my degree, the academics would explain elements of each subject to steer you in the right direction, but you are expected to read up on your own time and layer up your knowledge. It is crucial with the ATPLs that you start as you mean to go and dedicated additional time in the evening and weekends to explore the content in more depth.
One of the best instructors at my previous school had completed his ATPL exams in three months by distance learning. He had been in the industry for a long time and so the subjects covered in the exams was very familiar to him. But it does go to show what can be done, and I am proud that I completed my exams in six months because it helps others realise that it is possible."
What do you do in your own time?
"I love music and play the guitar and piano. I used to be in a band when I was younger, and music is a big part of my life. When I am not listening and playing music, I enjoy getting out and about with my girlfriend going for walks and exploring the countryside.
I also like to go flying whenever I can, it would be great to complete my commercial pilot training, but I have hours to build before I can progress with my flight training. At the moment I occasionally fly from Goodwood and will hopefully be joining a flying group at the airport here.
I teach spinning to the students, and so I went up and did some aerobatics, so I had the experience to draw on with my instruction. "
What would you say to those interested in becoming an instructor?
"To teach, I think you need to enjoy your subjects first, and foremost. I had no idea that this career existed and I love what I do. I teach my primary subjects and repeat them every so many week, so you need to enjoy revisiting the same topics and delivering them repeatedly. I enjoy it because each time you evolve the content, slides and information slightly each time.
You have to be comfortable standing in front of a class and gain the respect of your students. You do not need to have all the answers to all the questions. If a student does ask a question and you are unsure of the solution, you need to handle the situation with grace, and promise to research and respond to the question when you not sure of the solution. Students will always see through someone that isn't sure of their subject, and they can appreciate that it's not possible to know everything about the syllabus, especially in aviation where things evolve. I am sure some students enjoy the fact that they were able to ask something you are unsure about."
We asked Matt about his plans for the future.
"I would like to further my instructing experience and knowledge, and I am fortunate that although I specialise in specific subjects, I have the opportunity to learn to teach even more, which is exciting.
There is still that eight-year-old child inside me that gets excited about flying a 787. I enjoy flying and do as much as I can to build hours where possible. I am investigating a share in an aircraft at Shoreham Airport, and hopefully, I will be able to increase my hours (I have 80 hours to build if I want to progress my pilot training).
I am delighted in my current job, I enjoy what I do, and I still can't quite believe I have found a role which I enjoy and allows me to use all the skills and knowledge I have learnt.
I have trained at a number of different schools, and this is by far my favourite school. There is no corporate vibe, and everyone was very welcoming from day one. It is a real family environment, which will appear that there is the support and opportunity to progress my career."