The legislation (which comes in to place on 20 December 2019) requires cadets to complete UPRT for single-pilot high-performance complex aeroplanes, single-pilot aeroplanes in multi-pilot operations and multi-pilot aeroplanes.
Upset Recovery Prevention Training (UPRT) is normally completed after successfully passing the Commercial Pilot's Licence (CPL) test. Flight Performance Training (FPT) offer this programme on behalf of FTA to all our cadets. Students enrolled on the Integrated Flight Deck Programme, complete the UPRT during phase four (click here for more details).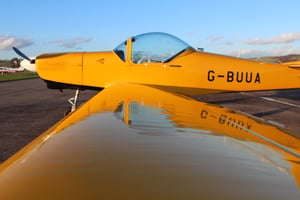 The training incorporates both theoretical and practical training. The aim is to build resilience within the pilot community as well as develop the attitude, skill and knowledge to recognise and avoid upsets and when all else fails, recover.
The training takes three days (weather dependent) and includes the following:
Eight hours theoretical knowledge training, covering loss of control in flight (LOC-I), aerodynamics and human factors.
Four flights delivered on the Slingsby Firefly T67M Mk2.
Who needs to complete the training?
Anyone that wishes to work as a First Officer for a commercial airline needs to complete the training. FTA's Integrated Flight Deck Programme includes this flight training as part of the total course fee.
How do I enrol?
If you are an integrated student with FTA, we will schedule your training on your behalf. If you are completing your training via the modular route, you will need to book and pay for your training direct with a training provider (such as Flight Performance Training).
Download a copy of our latest brochure and learn more about our integrated and modular pilot training programmes >>