Tours are the perfect time to experience the lively and friendly atmosphere of FTA first-hand, as well as see our facilities and discuss the school and your training with staff and students. You and a guest will learn more about what you can expect to get out of your flight training and how to decide which course and school is right for you.
Course options
We begin the tour by discussing the different course options we offer. The course structure and entry requirements of each vary, so it is important you are equipped with as much information as possible so that you can make the right choice. For some courses you need to have prior training, but some require no experience at all, so don't be put off!
Top tip: come prepared with the knowledge of which course you wish to do, so you can acquire as much detail on it as possible while you're here and can have face-to-face discussions.
We recognise the scale of the investment you are making into your flight training, so we aim to equip you with all the financial knowledge you need. This includes information about course prices, how and when payments are made and budgeting advice.
Each tour also involves the discussion of accommodation options. Since we do not offer private, on-site accommodation there are a variety of options open to students and is important to consider all of these so that you can determine which would suit you best.
A tour is the perfect opportunity to meet our Marketing and Admissions team and learn more about the social side of flight school. Many students make friends for life through pilot training, and we aim to facilitate this by organising a range of social events all throughout the year. We recognise our role in ensuring student wellbeing at FTA and we discuss the different ways we aim to support our students during the tour.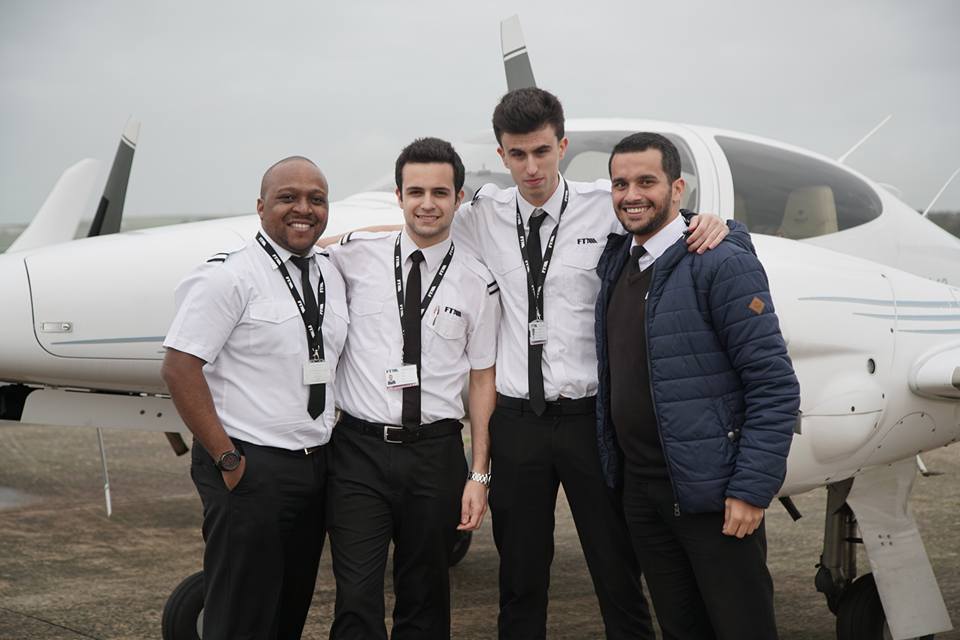 On the tour, we aim to equip all attendees with knowledge on how best they can prepare for their flight training. One crucial thing you can do, before you have decided on your course or even your school, is start putting money aside. It can also be useful to brush up on your maths and science knowledge before you begin your ATPL theory, if you are doing so, to save yourself work in the future.
Our cadets have gone on to fly with a variety of different airlines, including Whizz Air, Ryanair and easyJet. We provide CV writing and interview preparation workshops and work closely with our partner organisation AirlinePrep to ensure our students are airline ready by the time they finish their training. During the tour, we explain more about our relationship with AirlinePrep and FPT.
We first show you our facilities in Hangar 4. These include a ground school classroom and Diamond DA42 Simulator, which you will get to see in action should a lesson be taking place.
We then proceed to Wingfield house, where you can see our crew rest area and potentially chat to current students and the operations team. We then progress to the apron, where you can not only see our Piper PA28 and Diamond DA40 aircraft, but sit inside them.
This allows you the perfect chance to walk around our campus and get a better feel for the school and airport. Shoreham Airport is a hub for a variety of business which FTA work closely with.
At the end of each tour there will be plenty of time for questions, though we encourage visitors to ask them throughout! A student assists with the whole tour, making this a perfect time to really understand what pilot training is like from a cadet's perspective. It's great to come prepared with questions about your course or the school more generally. If you are unsure of what kind of questions you should be asking, have a look at our 'Top 10 Things To Ask Your Future Pilot School' guide. This can be useful in helping you determine what you want to know about every flight school, not only FTA.
There is no obligation nor financial commitment necessary to take a tour of FTA, so register an interest today. Whilst we are unfortunately unable to offer in-person tours at this time, in the interests of preserving the safety of our students, staff and yourselves, if you register an interest we will contact you when they resume. In the meantime, you are more than welcome to book onto one of our virtual tours, in which all the aforementioned topics are discussed, and you can participate in a Q&A with a current cadet.