The number of people training to be a pilot is at a 5-year low and yet the industry needs more pilots, technicians, engineers and crew more than ever. The cost of training is high but by no means as exorbitant has the headlines would indicate. Like anything you need to 'shop around' to find the right training provider and solution that suits you.
That said, pilot training is likely to cost a minimum of £50,000 and without the ability to use a student loan the inevitability is that the funds will need to come from savings or finance. So why be a pilot - what is it that sets the career apart from the rest?
We asked our cadets, pilots, partners and instructors this very question. And after the first response you could be forgiven for reconsidering your own path (if it's not already to be a pilot).
Yak trained to be a pilot with FTA in 2016. He'd started his training from the earliest possible age, joined the cadets and gliding clubs and obtained his PPL before he passed his driving license. Yak joined FTA as a modular student and completed our MEP, ME IR ME CPL course alongside fellow student Paulina. Both had sought to complete their pilot training on a module by module basis and saved whatever funds, and spent as much time in the skies as possible.
Yak explains what it's like to work as a pilot:
"Flying is just not a job. It's a way of life…I didn't pursue this career for the money, I simply wanted to fly. Now I get up every day and I fly, which I love. What could possibly be better than that?"
Yak is someone with his head screwed on, after weeks of completing his fATPL he trained to be an instructor and taught students to fly in the Scottish Highlands, before he was 21 years old!
That expression on his face when he talks about flying is unmistakable. The way his eyes widen and he lights up is one we see on so many students and never fails to amaze.
Paulina shares a similar unquestionable, passion for flying:
"Flying has always been my dream. It simply brings so much beauty, freedom, magic and satisfaction. I am so much in love with my passion for aviation that a day doesn't go past without me thinking about it and I absolutely know that I will never have enough of it."
Paulina self-funded all her training, working as a flight attendant and saving every penny for the next stage of her training. Like Yak she was quick to get invited to an assessment and interview day with a major airline that she passed and now is waiting for her start date.
Current student Julie, agrees, originally from France, Julie enrolled on Option A of FTA Flight Deck Programmes and has just 5 months left of her training. Julie, enrolled with FTA having tried and walked away from other, very successful careers. She simply couldn't resist following her dream and described to us how she fell in love with the idea of becoming a pilot: "That incredible feeling as the wheels leave the ground and the plane takes flight is incomparable. Whether I am the pilot or a passenger, that feeling makes me breathless. The possibility that one day, my days will be filled with looking out at the sky, the sun and the beauty of twilight leaves me with my head in the stars".
Kamil is another, very focused ex-Student of FTA's. He enrolled at our flight school after a chance encounter, having noticed our cadets in uniform in passing one day, came for a tour and the rest, as they say, is history.
Kamil has completed all elements of his training in minimum time and was a familiar face during his training, in every day studying or preparing, he was by all accounts, like Yak, a model student. He explains why he wants to be become a pilot:
"I learnt that operating the aircraft is not the only role of a commercial pilot. Managing a complex piece of technology, responsibility for safety, passengers and crew, difficult decisions, ability to travel and work with new people every day was something I definitely wanted to do. Once I sat in PA-28 for the first time and took off, there was nothing that would turn me away from pursuing this career."
Since completing his training at FTA, Kamil has secured a role as a First Officer with a major airline. He completed airline preparation training before be applied for the role, he explains: "You learn to apply decision making models, manage risk and safety and utilise all available resources. All of the above will make you safe standard and commercial in any work environment. Such position of responsibility develops fantastic competencies and together with the vastness of the industry allows for continuous professional and personal growth".
This response is not uncommon, we speak to many students for whom the training is not least about the romance of flight or the completion of a lifelong ambition, but also the nature of the training itself. Such was the case for FTA Operations Assistant James, as he explained: "because I enjoy looking outside the aircraft and seeing the sites from the flight deck, particularly the cloud tops and cloud surfing. Flying gives me the opportunity to enhance my skills both professionally and personally particularly when it comes to multi-tasking and prioritisation, it allows me to make quicker selections. The mind-set of a pilot is a powerful one and allows me to expand my horizons with other areas of work and volunteering. The drive to fly is also a powerful one as it shows a lot of determination and patience to pass all the tests required as well as the job hunting afterwards!"
What are your hopes and dreams? Have you considered becoming a plot but postponed the idea feeling that perhaps you can be content with a life a little more ordinary.
What will 2018 mean for you? Will this be the year you take a brave, bold step closer to becoming a pilot? Read our cadet and pilot stories on our website and see whether you identify with any of our students past and present. Today will never happen again and there is never a better time than the present to step toward making your dreams come true.
FTA offer integrated and modular courses with start dates throughout the year. We hold tours of our campus every Thursday at 10 am so you can see the flight school on a typical day of operations and decide for yourself whether this is somewhere you want to be.
Many of our instructors have once been students at the school themselves, and recognise the important of cultivating an environment which is friendly and supportive – the perfect place for cadets to thrive!
We asked students, graduates, instructors and partners how they too would answer the question: Why be a pilot? Here some more, compelling reasons to become a pilot: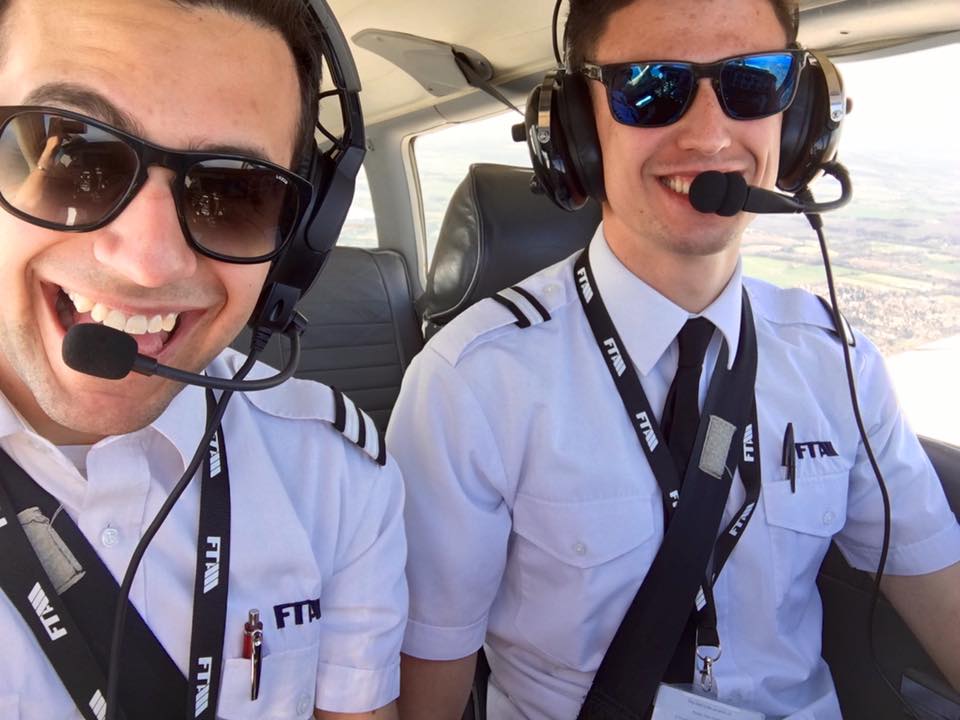 Alessandro, FTA Graduate and Ryanair Pilot:
"There are many amazing reasons to become a pilot. First of all the training is relatively short compared to other professional careers such as doctors or lawyers. With at the most 3 years you are able to be at the controls of any Airplane. Secondly, differently from what the majority of people think, there are a wide range of pilot jobs available around the world: from flying a big airliner with hundreds of passengers; to being a bush pilot landing on narrow grass strips and even carrying VIPS in a business jet. They are different and all very exciting, you just need to pick the one that suits you the most! I personally think that flying is not a job but is a passion. Having control of a mighty Boeing or Airbus or any other plane is absolutely breathtaking. I wouldn't know how to describe that thrilling sensation you feel when you are landing a 70 tons airplane at over 160MPH on a new, unknown airport, in dense fog or when you are battling with wind and adverse weather. And then, at the end of the day, it's really satisfying thinking that you safely carried hundreds of people to a different country thousands of miles apart. Once you experienced flying you won't be able to think of doing anything else in your life!"
Kamil, who has very recently graduated from FTA Global:
"I learnt that operating the aircraft is not the only role of a commercial pilot. Managing a complex piece of technology, responsibility for safety, passengers and crew, difficult decisions, ability to travel and work with new people every day was something I definitely wanted to do. Once I sat in PA-28 for the first time and took off, there was nothing that would turn me away from pursuing this career. You learn to apply decision making models, manage risk and safety and utilise all available resources. All of the above will make you safe standard and commercial in any work environment. Such position of responsibility develops fantastic competencies and together with the vastness of the industry allows for continuous professional and personal growth. "
James, Operations Assistant for FTA Global:
"I became a pilot because I enjoy looking outside the aircraft and seeing the sites from the flight deck, particularly the cloud tops and cloud surfing. Flying gives me the opportunity to enhance my skills both professionally and personally particularly when it comes to multi-tasking and prioritisation, it allows me to make quicker selections. The mind-set of a pilot is a powerful one and allows me to expand my horizons with other areas of work and volunteering. The drive to fly is also a powerful one as it shows a lot of determination and patience to pass all the tests required as well as the job hunting afterwards!"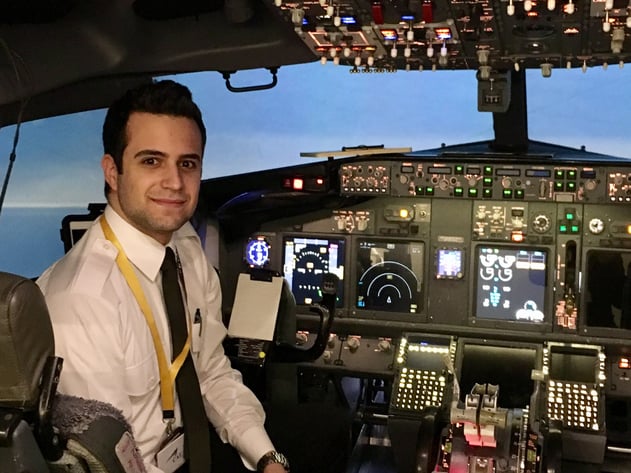 David Priamo, FTA Graduate now a First office for Ryanair:
"Why become a pilot? Being a pilot, especially airline pilot, gives the opportunity to work in an highly qualified environment with great achievements every day. Only few other jobs give such a great career prospects, with chances to have some of the highest qualifications in the aviation industry even before the thirties. Great experiences, many satisfactions, good life style, flying with fantastic crew and friend and visit some of the best place in Europe, are only few of the thousands of good things about being a pilot."