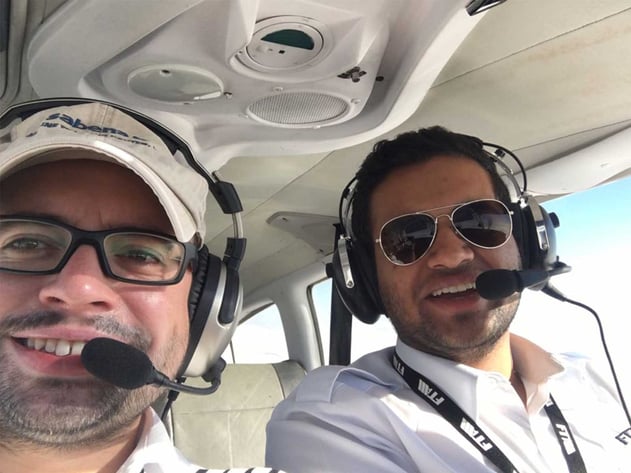 Before our Flight Instructor Pablo went off to pastures new, he agreed to complete quickfire Q&A for us. Pablo was a great asset to the company and really enjoyed his time teaching FTA students. His responses offer great insight into 'why to get into flight instruction'.
HOW DID YOU GET INTO AVIATION?
I have a vague memory of me crawling and playing with a battery-driven fighter jet (it had flashing lights and made some noises), I was probably two years old. Another highlight of my aviation career was Santa bringing me a toy airport set when I was five. However, being an "airport manager" wasn't for me, and soon after I started playing with flight simulators. Eventually, when I was 18, I started my integrated ATPL course in Airmed, Valencia.
Unfortunately, where I grew up in Spain aviation is not very popular, and it was initially very difficult for me to find any aeronautical activity. It was a matter of going from being an enthusiast to starting professional training straight away.
HOW LONG HAVE YOU BEEN FLYING FOR?
15 years (time flies) and counting!
WHAT INSPIRED YOU TO BECOME A FLIGHT INSTRUCTOR?
Back then my objective was to become an airline pilot. I became a flight instructor as a means to an end. Then as soon as I started instructing I fell in love with instruction and teaching and wished I had done it sooner!
WHAT DO YOU LOVE MOST ABOUT YOUR ROLE?
I would find it really difficult to isolate one part of the job, but flying every day can't be beaten. Then you have the human part of the job… watching the students progress gives a very special feeling
WHAT HAS BEEN YOUR BEST OR MOST INTERESTING EXPERIENCE AS A PILOT SO FAR?
I would find it very hard to single out one over others. First flight, first solo flight, passing my ME-IR exam, first flight in a glider, the first flight as a flight instructor, flights in which a struggling student has made a marked improvement… I try to savour every moment.
WHAT HAS BEEN YOUR FAVOURITE AIRCRAFT TO FLY?
Difficult answer… it feels like having to choose between your children. The Diamond DA40 impressed me with its performance and handling characteristics, the Socata TB200 is the most comfortable aircraft I have flown, the C150/152 and Socata Rallye are a joy to handle and the PA28 although is not a "10" in any aspect it's balanced and its reliability and forgiving handling characteristics make it an ideal aircraft for flight training and basic leisure flying.
WHAT IS YOUR ADVICE FOR ASPIRING PILOTS?
Work hard, focus and don't lose sight of your goals, it's worth it!