We spoke to Paulina, a recent graduate of FTA about what she thought of the gender gap in aviation. Paulina speaks openly about what inspired her to start her pilot training, the sacrifices she made to realise her dream and what advice she would give to anyone interested in pilot training.
A word of warning: her words will inspire you.
Why do you want to become a pilot?
It is my dream, passion and life. I would like to share with you my favourite poem. This is exactly how I feel about flying:
Because I fly
I laugh more than other men
I look up and see more than they,
I know how the clouds feel,
What it's like to have the blue in my lap,
to look down on birds,
to feel freedom in a thing called the stick…
who but I can slice between God's billowed legs,
and feel then laugh and crash with his step
Who else has seen the unclimbed peaks?
The rainbow's secret?
The real reason birds sing?
Because I Fly,
I envy no man on earth. — Grover C. Norwood
Why do you think that so few women learn to fly?
I think there are two main reasons why not so many women head to the flight deck:
#1 - the stereotype that unfortunately is still very popular – pilots are normally men. Young girls would rather dream of becoming cabin crew, but not to take control of the aircraft itself. Only later on when they see a female pilot disembarking a plane they would think: Hold on, I could do that, too. That's when they start seeing things differently and it becomes a life changing moment.
#2 - character, background and the biology of women. In most of the cultures it is a woman who would sacrifice her career to raise children and become a housewife. For many women looking after family is the highest priority and they would not consider working long hours, missing Christmas/graduations/birthdays what can be inevitable for those working in the aviation industry.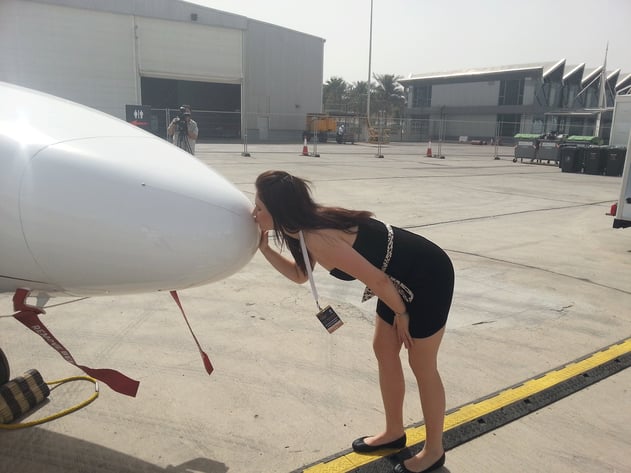 how do you think the gender gap could be readdressed?
A proactive approach from flying schools and airlines to increase the number of females they train and employ definitely helps.
Training providers could actively show that there are indeed female pilots entering the industry – that would be definitely quite inspiring for many females. I know from experience that funding the pilot training course can be very challenging and it would be very encouraging if the school could sign a bond with a bank to help young girls sponsor their training. Sometimes we all need that small push to make a first move.
All aviators know how addictive flying is and that kind of experience could change the stereotypical thinking of young girls and their parents.
I often think that if we gave young girls the chance to fly with a female pilot, someone who may be building hours on her way to a professional flying career, it would make a difference.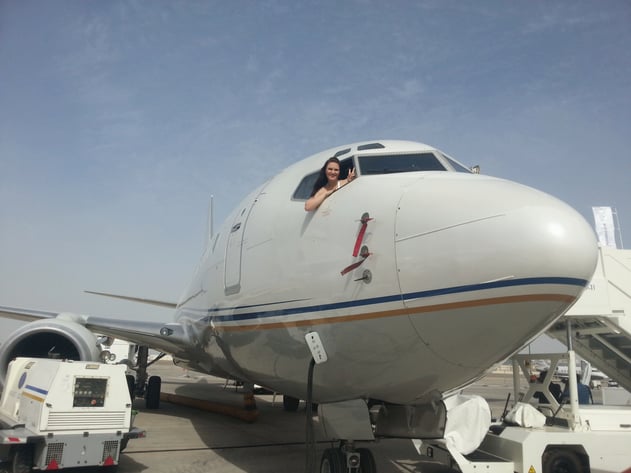 What would you advise to a woman who is unsure about training to become a pilot?
If this is her dream she should definitely go for it, invest in herself and make the first step. Pilot training is a very demanding one. It requires lots of self-discipline, months of intensive studying and...love for flying – this will keep her going even when she faces difficulties.
She needs to be 100% ready for the commitment and hard work.
Before I started my training I decided not to take any loan and also borrowing money from family to fund flying was never an option. I knew that through hard work I would find a way and make it happen.
I spent a few years saving every pound while working as cabin crew for a major Middle Eastern airline and then for a private jet company. I studied before and after my flights, I never bought new clothes, I did not really go out partying or to the cinema. It never felt like a sacrifice because I spent all my money on flying, something I love more than anything else. I will always encourage people to follow their bliss. If this is what they truly love they will always find a way!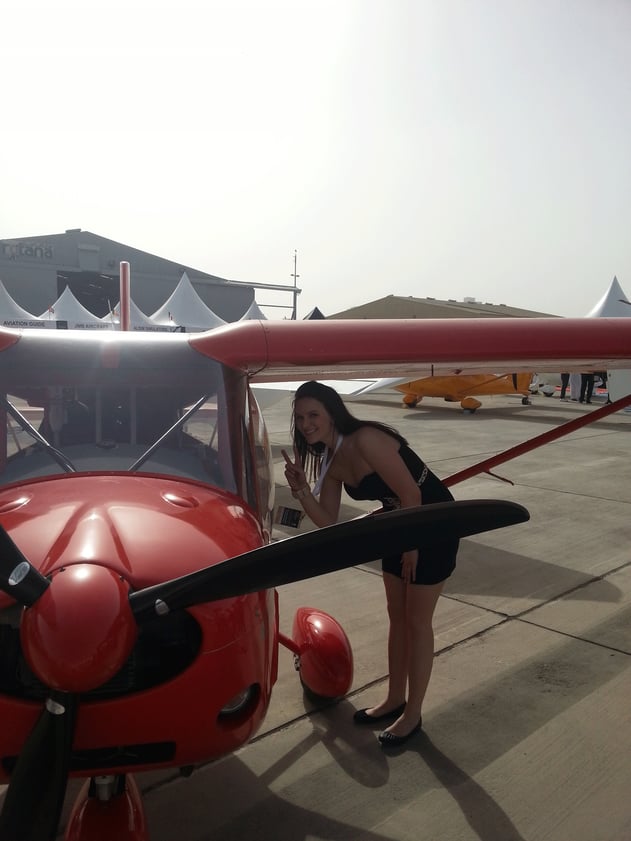 You've already worked in the industry on the cabin crew side. Do you have any observations about the industry?
Lots of people start flying without realising what exactly they get into. Aviation is not really what it seems from the outside and a pilot lifestyle can be a very challenging one. As cabin crew I could already experience working under pressure long hours, dealing with fire onboard, medical emergencies, looking after passengers' safety, being jetlagged, living away from family and friends in a new country with a totally different culture etc. Even though for some people it could be a bit discouraging it definitely did not put me off flying.
I love challenging myself and lack of routine at work. Flying is everything I ever wanted to do.
What did you study at school?
In high school my main subjects were Mathematics, Geography and French. After I passed my DELF B1, FCE and A-levels I started studying French Philology with Spanish at the University of Wroclaw in Poland. I enjoyed studying languages as I knew they would help me broaden horizons and discover the world. I love learning about new cultures, travelling and meeting people from different countries. Even though I did not study something related to aviation I do believe it was a right choice as I find my language skills really useful on a daily basis. There is a Chinese proverb I read once:
To learn a language is to have one more window from which to look at the world. How true!
If you were to give any advice to your 11 year old self, what would it be?
I was a driven and very stubborn child. My mum told me that I always had those "big ideas" and I would work all day and night to make it happen. I always felt a bit different than other children and I did not quite know if it was good or bad. Sometimes I felt very shy and I would try to "fit" more. Only in grammar school I learnt how to be confident about myself and that standing out was not really a bad thing – it was actually being charismatic. Since then I started attracting people, I was an active member of a students' council organising many events, parties, charity gatherings, representing my school in all sort of competitions etc.
"Be yourself, work hard and miracles will happen"
I knew that with hard work nothing was impossible. I did not know it when I was 11 and if I was to give myself an advice it would be "Be yourself, work hard and miracles will happen".
Women of Aviation Week runs from 6th March - 12 March 2017. More information about the week and a celebration of women in the industry can be found here: www.womenofaviationweek.org