We spoke to integrated student Julie about her journey to becoming a pilot.
Within minutes of meeting with Julie, it's easy to see why she is training with the flight school today. Julie went solo in 10 hours and has already proven her ability as a strong pilot with great promise.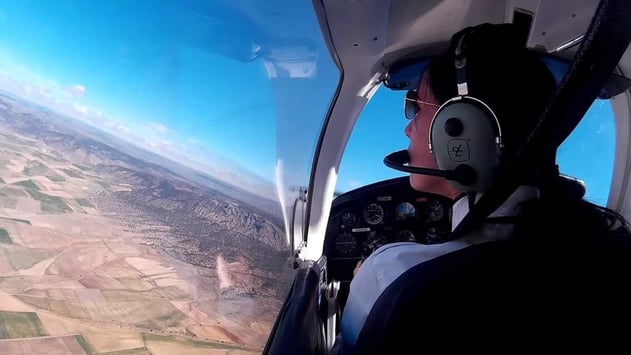 We started by asking Julie why she wants to be a pilot one day: "I know that one day I will need to answer this question when it is posed by a recruiter. But words fail me. There are no words to describe why I want to be a pilot and it would be far easier for me to pose them the question, "how could I not want to be a pilot?"
"That incredible feeling as the wheels leave the ground and the plane takes flight is incomparable. Whether I am the pilot or a passenger, that feeling makes me breathless. The possibility that one day, my days will be filled with looking out at the sky, the sun and the beauty of twilight leaves me with my head in the stars. For me, that vision is soothing and an incredible source of motivation."
Originally from France and born in Paris, the journey to become a pilot has not been direct. Conscious that a high level of English language and comprehension is essential for pilot training, Julie knew she needed to improve her English communication skills, but how? Not particularly academic at school, with a low interest in class work, Julie simply studied because of her vision of becoming a pilot one day. This vision encouraged Julie to push through and complete her baccalaureate (A Levels). She explains "At school my English was poor and any 'future' pilot knows that English is essential for this job. I therefore gave up the idea of becoming an airline pilot thinking that I was not 'smart enough', that I was not part of 'the elite'. After school, I tried to find my way with other careers and, by nearly thirty, I had tried no less than 7 different jobs."
Julie's love of flying was encouraged by her parents who worked as cabin and flight crew for Air France:
I was fortunate to travel a lot with my parents, and each time, the best part of the trip was the time spent in the plane and not at the destination...
"One day I woke up and decided it was time to move and make my dream come true. I finally chose to accept that I would not flourish all the while I stayed in careers that lacked my interest and passion. I realised I needed to take advantage of my personal situation and finally pursue my dream."
Supported and encouraged by her family and friends, she moved to England with her husband. Leaving a good career as an accountant in the sunny climes of Marseille, for a role as a waitress in a fast food restaurant in rainy Manchester.
To many, that would have been a tough move. Her waitressing role involved working long hours, in a demanding and uncomfortable environment. But it wasn't about the short-term pain; it was about getting that vital experience speaking and improving her English.
Within six months she had enough vocabulary to launch herself into a career as cabin crew and make no mistake, securing a role as a flight attendant is not easy, nor is it as glamorous as perhaps it was once perceived. But just as many future First Officers before her, Julie saw it not only as a great way to improve her common and aviation English, but also to meet some great people that share the same passion.
I spent 3 years researching and comparing schools for an Integrated ATPL Programme. It was very difficult to choose...
It would be a further 3 years before Julie would select her final destination for pilot training.
"I spent 3 years researching and comparing schools for an Integrated ATPL Programme. It was very difficult to choose. I was posed with the question - do I choose the most well-known and the most expensive school which had a lot of students and was therefore very impersonal, or one which was smaller and less known, but more human? After all, we all take the same exams with the CAA and we all get the same licenses!"
After plenty of research and careful consideration, she finally chose FTA. Julie explains why: "It was not only for the attractive price, but also for the flexibility of the system, the accessibility of the instructors who are present and listening, the consistent fleet regarding the number of students, and also to have the possibility of flying in Spain.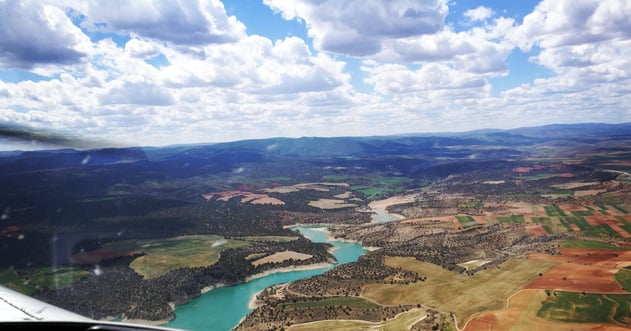 It was the right choice, the Spanish option meant I could fly seventy-five hours in five weeks. But I'd also get experience flying in England for the important, advanced stages of pilot training. Especially around London where I am looking forward to facing the reality of the job in a very busy environment and capricious weather, because yes, being an airline pilot means not always flying with a nice blue sky without turbulence!"
Make no mistake, Julie is as hardworking and levelheaded as they come. She certainly knows how to apply herself to what she wants and she does not take this career path lightly. She explains: "Behind the joys of flight, one must understand the issues and be ready to take on the responsibilities related to the role of an airline pilot, promote flight safety, reach the objectives and respect the imperatives of companies. This constitutes an exciting and rewarding challenge. I especially enjoy being able to evolve within a team, the absence of routine, the permanent adaptation, learning new technology, flying on a new type of aircraft, continually updating on new legislation. And the icing on the cake; there is a great evolution perspective from First Officer to Captain, becoming an Instructor, Base Manager, medium-haul, long-haul etc."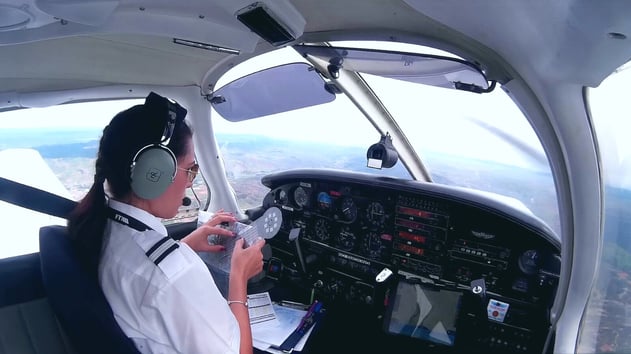 She should know, the combination of her parents as well as her own experience, and the friends she has made are a great source of information, advice and support: "Among the pilots and cabin crew I know, those who have really chosen the aviation world by vocation and conviction often show great human and relational qualities. Because after all, travelling and meeting people forge one's personality by making it curious and open-minded."
Through her experience and connections she's open minded and aware of the pit falls and less glamorous aspects of the role, "as always there are the advantages and disadvantages to the job - jet lag, night flights and very few free weekends. It is important to get to know oneself, to know one's own limits and be able to manage stress. To use the adrenaline to fuel positive progress and achievement, staying resilient to obstacles and negative experiences. You have to know and accept yourself at all times."
Being so familiar with the industry Julie knows that the prospects for the female cadets (just as they are for men) are very good, "Being an airline pilot does not require any skill that a woman does not have! There was a time when being a female pilot represented a real struggle. There is no sense of any gender bias, in fact some airlines are actively trying to encourage applications from female cadets!
We, just as our male counterparts, are able to handle a heavy workload, to keep a cool head, to know how to manage a team, make decisions, learn again and again ... With a beautiful smile!
Julie is currently in ground school completing her ATPL theory. She explains what it's like for her at the moment "It is very difficult, the ATPL theory takes a lot of motivation, and you are learning a huge amount of theoretical knowledge. But if this hard work is the price to pay to access a cockpit and finally realise my dream, so be it!"
Julie concludes: "While waiting for the day when I finally have the incredible pleasure of sitting in the right seat with passengers in the cabin, I have to get back to work. Thanks to FTA for supporting me throughout my training step by step, I do not regret my choice!"