CAA & EASA Approved Programmes
We have the necessary approvals to deliver both EASA and CAA commercial pilot training. Full details about what this means, and the options for you are available here.
FLIGHT DECK PREPARATION
Hours -102
The first few weeks are the ideal opportunity for a detailed introduction of airport operations and flight planning.
The default structure for our integrated course starts with ATPL theory. And we offer all new starters the opportunity to backseat another student 's training flight.
The aim of this additional element to the induction is to motivate and inspire students as to what is ahead.
AIRLINE TRANSPORT PILOT LICENCE (ATPL) THEORY
Hours - 810 classroom-based instruction
Module one
Meteorology
Aircraft General Knowledge
Air Law
IFR Communications
VFR Communications.
Module two
Principles of Flight
Instrumentation
Performance
flight Planning.
Module three
Operational Procedures
General Navigation
Radio Navigation
Human Performance and Limitations
Mass and Balance.

Flight phases 1-3 are completed in a Piper PA28 Warrior.
PHASE ONE
Hours - 12

During this phase, you will learn all the manoeuvres and airmanship required for the operation of an aircraft. The training will include take off, general handling and landing. You will also start to operate the radio. At the end of this phase, you will be ready for your first solo flight.
PHASE Two
Hours - 20

This part of the course will improve your aircraft handling skills, and you will complete approximately 10 hours of solo time.
PHASE three
Hours - 51.5

During this phase you will build the required solo hours to progress on to the next stage of your flight training and gain valuable experience in visual flight, navigation and general handling.


PHASE FOUR
Hours - 114.5 / over 4-5 months
Aircraft used - DA40 EFIS, DA42 EFIS, DA42 FNPT II EFIS Simulator

This part of the course is deemed to be one of the most challenging. When you finish this flight phase you will possess all the necessary skills to commercially operate single and multi-engine aircraft.
You will learn how to fly the aircraft by sole reference to instruments under Instrument Flight Rules (IFR). This flight phase also includes Upset Prevention Recovery Training (UPRT).
You will also learn how to:
Commercially and safely operate the aircraft in controlled airspace during normal and abnormal operations
Operate and use complex systems like the FMS, FADEC, A/P, de-icing and anti-icing systems and air-data computer.
MULTI-CREW COOPERATION/ET ORIENTATION COURSE (APS/MCC)
Aircraft used Fixed-base Boeing 737-800W Simulator
Duration 3-4 weeks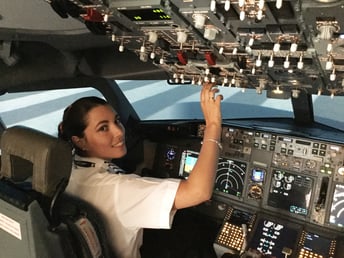 At the end of your pilot training you will need to complete a Multi-Crew Cooperation Course
(MCC), this we deliver through our partner JetMASTERCLASS and features an APS as standard.
The Airline Pilot Standards (APS) course is a regulated course that came about to fill a common skills gap between completing MCC and undertaking initial multi-pilot jet type rating. It is deemed a highly desirable programme by recruiting airlines with statistics proving that those with an APS are more likely to excel in their line training.

The APS course includes 20 hours more practical flying than a standard Jet Orientation Course, that's 12 hours of advanced handling, 6 hours of advanced airline scenarios training, and a final 2-hour check to a formalised exit standard.
The APS provides employers with a level of confidence that a regulated standard has been achieved.The training offers more than a standard MCC and includes an APS Course on a high-fidelity fixed-base Boeing 737 - 800W simulator at a training facility near London Gatwick Airport.
The training forms an integral part of FTA's Flight Deck Programme and places an increased focus on airline-specific training.
Further information detailing the APS course and benefits is available here.
How do I enrol?
If you're ready to enrol, we simply need you to complete our online Admission Pack, with copies of your passport and GCSE certificates and class one medical certificate (or proof of booking). Details on how to pay your initial payment and secure your place are available in the online admission pack.
Book a tour of FTA