Become a Pilot with FTA
To work as a First Officer for an airline you will need a frozen airline transport pilot licence (fATPL). This you can complete full-time via an integrated course, or by what's called 'modular' training.
If you're seriously considering a career in the industry, you must first decide which route is most suited to you. The following guide gives you all the essential information you'll need to make the right choice.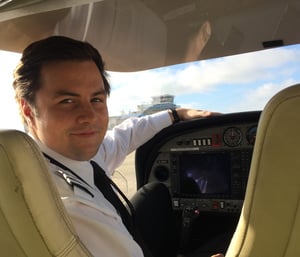 WHAT ARE MY OPTIONS FOR PILOT TRAINING?
If you want to become a commercial pilot, you need to have a frozen Airline Transport Pilot Licence (fATPL) which enables you to work as a First Officer role with an airline. There are two ways of obtaining a fATPL, Integrated or Modular. Integrated means a full time intensive course with one training provider. Modular, as the name suggests, divides the training into individual modules. These can often be completed part-time and with a variety of different training providers.
If you want to fly recreationally or find out whether you have the skills to embark on a career in the industry, then a Private Pilot's Licence (PPL) is the best starting point. However, it's useful to know that you can enrol on an integrated course with zero flying hours OR with a PPL.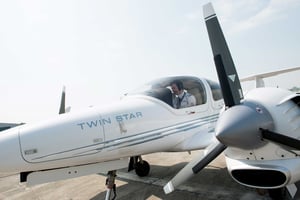 WHAT IS A COMMERCIAL PILOT'S LICENCE (CPL)?
A CPL allows you to act, and be paid, as an aircraft pilot. The minimum age is 18. Together with an instrument rating, completed ATPL theory exams, Advanced UPRT and a multi-crew cooperation course (MCC), you would hold a Frozen airline transport pilots licence (fATPL) allowing you to fly for an airline.
Commercial pilot training consists of theoretical and aircraft flight instruction. The flying phases are spent in various aircraft and simulators. For a CPL, you will need to complete more extensive training and gain more in-depth theoretical knowledge than for a PPL.
As part of the application for CPL, you will need to pass exams in 14 ATPL subjects, which are as follows:
Module One:
Meteorology
Aircraft General Knowledge covering; power-plants, systems and electrics
Air Law
IFR Communications
VFR Communications
Module Two:
Principles Of Flight
Instrumentation
Performance
Flight Planning
Module Three:
Operational Procedures
General Navigation
Radio Navigation
Human Performance and Limitations
Mass and Balance.
We offer world-class commercial flight training and equip students with the skills, experience and confidence needed to become proficient pilots.
The cost of the CPL depends on the route you choose. Full details about course fees are available here.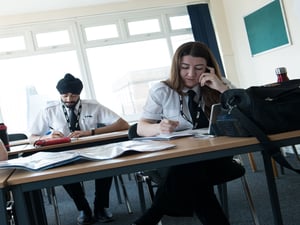 CAN I STUDY FOR THE CPL PART TIME?
We offer two routes to completing your commercial pilot training: modular and integrated. The integrated route is a full time and intensive course of training, whereas the modular route can incorporate a slower pace of training by building in breaks in between modules. We would recommend that all individual modules are taken on a full-time basis.
The full-time Integrated Flight Deck Programme typically takes less than two years to complete; this offers a faster route to completion than modular training.
With the modular option, you take individual courses at your own pace which is a good choice if you wish to combine your training with employment and spread the financial cost. The duration depends on you, but the course typically takes around two years to complete.
You can see a more detailed comparison of the two options on our website.
Do I need to complete an aptitude test or pre-entry assessment?
You do not need to complete a skills test to enrol on one of our courses. We would prefer for you to do a test that informs you about yourself, your personality and your aptitude for pilot training rather than a 'pass or fail' entrance exam.
There are independent tests are available for this. Our partners in pilot training, AirlinePrep now offer an airline pilot skills assessment. The test that is suitable for aspiring pilots is the Aspiring Pilot Psychometric Test for £199. Made up of a range of tests that cover Maths, Physics, Reasoning and Personality, these tests are designed to predict your future performance within a pilot training programme. After completing the test, candidates have an individual debriefing with a current professional pilot to discuss the results and what they mean. In addition to this, if you share your results with FTA for the Aspiring Pilot Psychometric Test, and further sign up for a course with us, we will credit your FTA account with £199!
The Honorable Company of Air Pilots also offer an aptitude assessment which is carried out at RAF Cranwell (in Lincolnshire).
What the entry requirements for the CPL?
For the CPL/IR integrated programme, you should hold at least five GCSEs (including Maths and English and science) and two A Levels (or equivalent). You will need to pass an aeromedical for all flight training, and more information on what to expect from your medical exam can be found here.
The entry requirements for modular courses vary, depending on which phase of flight training you have already completed. All the pre-requisites for our modular courses are available on our website.
Pilots need to have many more skills beyond formal academic qualifications, AirlinePrep have created an online quiz to help you assess your current skills and aviation knowledge, click here to test your knowledge.
I ALREADY HAVE A PPL. CAN I STILL APPLY FOR AN INTEGRATED CPL COURSE?
Absolutely. Your integrated course can be adjusted to account for some of your flight experience if you hold a PPL. That said, if you have completed your PPL over a long period and accumulated a large number of hours, the modular route may be more appropriate. The choice depends entirely on your circumstances. Please contact our admissions team to discuss the best option for you.
WHAT IS THE CHEAPEST ROUTE TO BECOMING A COMMERCIAL AIRLINE PILOT?
No element of flight training is cheap, but modular training offers a great, stage-by-stage way to complete your flight training – with consistency in instruction and aircraft availability. We aim to make the training as flexible as possible, regardless of whether you choose full-time or part-time programmes.
WHY ARE pilot TRAINING COSTS SO HIGH?
Training to be a pilot requires a large financial investment due to the nature of the instruction and equipment involved. But this investment will pay dividends with excellent pay and career prospects if you are willing to devote the necessary time and hard work to your training.
At FTA, we strive to deliver the highest quality training to as many people as possible. We work hard to make this accessible by continually improving efficiency and investing in the right systems and equipment. We are large enough to benefit from economies of scale but small enough to keep the personal touch.
In recent years, there has been a growing propensity for pilot training schools to adopt course fee payment plans requiring aspirant pilots to pay both a large deposit and material fees in advance of training actually being delivered. This has resulted in growing customer dissatisfaction that they have effectively lost control of both their cash and influence over the cadence of their training service delivery.
The situation seems particularly prevalent for Integrated ATPL courses where, in some instances, other UK pilot schools are taking greater than 75% of total course fees within the first 6 months of a 20-month course. Not only could this be regarded as unfair, the additional interest cost payable by the customer on these advance payments is significant.
Focusing on the need to take a more customer-centric approach, FTA looked at the situation across the UK industry and has decided to address matters with a fairer and more ethical approach and has adopted a core business strategy of 'FAIR FEES®' from 2023.
WHO WILL I TRAIN WITH?
We pride ourselves on our outstanding pilot instruction and training. We have very high levels of student satisfaction, and we continually look for ways to enhance what we offer.
At FTA, the ratio of full-time students to instructors is optimised so; you benefit from close supervision and personal attention.
WHERE DO fta GRADUATES WORK after THEIR TRAINING?
Our graduates have secured roles with major airlines globally, including EasyJet, Ryanair, Cathay Pacific, Qatar Airways, Aurigny, Loganair, Wizzair,TUI, Airbaltic, Lauda and many more.
We are keen to support our students to find fulfilling careers and offer help with career preparation and development. Consequently, we now offer an MCC/APS as standard, with our Integrated Flight Deck Programme. This specialist training is delivered through our expert training partners Jet MASTERCLASS, who work directly with recruiting airlines.
It may be however, that you fall in love with flying the Piper and Diamond aircraft and grow interested in becoming an instructor yourself. Flight instruction offers excellent career prospects and an opportunity to gain extensive hours and flight experience. Click here for a video about working as a flight instructor at FTA, alternatively you can read some of our graduate success stories here.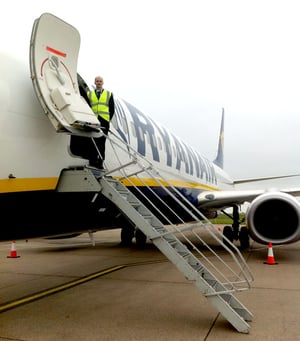 WHEN CAN I ENROL?
Full details about the start dates are available here. Some programmes have very limited availability, so early booking is advised.
CAN I STUDY IN THE UK AND OVERSEAS?
All our pilot training is delivered in the UK. If you enrol on our integrated programme you will complete all phases of your flight training on our advanced Diamond aircraft. The busy airspace in the South East combined with the demanding weather conditions provide the optimal training experience.
If you don't know where to start, or which option is best for you, please contact our admissions team. We will give you all the best advice for your circumstances based on our knowledge and experience of training hundreds of pilots over the years. You can also arrange a tour to learn more about our pilot training, click here to book your place.
Find out more, by visiting the 'about us' page.
Ask us anything...