Join us for our brand new free online session -
How to excel at your pilot training
Friday,

7th May, 2021

12:00pm - 1:00pm (BST)
We offer elite flight training for professional pilots. But what does that mean?
We have organised this very special seminar to offer aspiring pilots valuable insight and advice into how they can excel in their pilot training.
The cadets and pilots who are taking part in this panel are all at different stages of their pilot training, and performing to a high standard. They will guide you through:
Selecting the right pilot training route

How to choose the right school

Advice and tips on your pilot training - from ATPL to flying

How to stay motivated and focused on your future goals.
---
A member of our team will be in touch within 48 hours to confirm your place and send your zoom invitation.

I'm 24 and a student in phase 4 of my training here at FTA Global. I have finished my Ground school and ATPL exams and am currently completing my night rating in the PA28 alongside my CPL in the multi-engine DA42.
I'm extremely passionate about my training and love to help others follow their dreams towards becoming a pilot. Shoreham is a brilliant place to train with busy airspace and challenging weather. Couple that with experienced instructors and excellent aircraft and you've got yourself an exceptional training organisation.

I'm Dan, I'm 21 and am a modular student here at FTA. I have always had a passion for flying since a young age when my grandad took me flying in a Cessna here at Shoreham. I got my PPL here at Shoreham and during my hour building I did lots of trips to other airports and trips round the UK. I started at FTA in ATPL ground school and I'm currently doing my Instrument rating, this involves learning how to fly in low visibility weather allowing me to fly in cloud, bad weather and airways. This requires good workload management to keep ahead of the aircraft as there is lots to do in a short amount of time.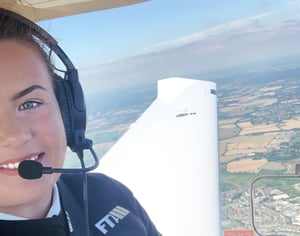 My name is Fredricka and I started my training in 2019. I was one of the last people to join the course when it was run it the old way (starting with flight phases one to three before joining ground school). I have completed ATPL ground school and now started on phase 4, so now I start flying for my CPL. This stage is really exciting because I am doing it in the DA42. Soon I will do the CPL test and then move on to the Instrument Rating and UPRT. That will, of course, take time but I hope to be finished this year.
I am also a member of FTA's 'Student Voice' which is a collective of students who represent all pilots training here. Together with other student representatives I liaise with FTA's management team to work through any positive or negative experiences we may have.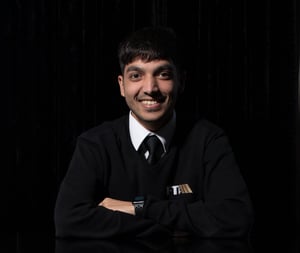 Originally from London, the Royal Air Force Air Cadets is what sparked my love for Aviation and flying and gave me my first taste of a solo flight. I am an Integrated Student currently undertaking a dual license for the UK CAA and EASA. Currently, I am waiting to undertake the final phase of my training to complete the CPL and IR, and on track to complete training by the end of the year. It is my intention to fly commercially upon completing the course.