We spoke to Charlie Harman, who is currently training with FTA about the importance of training in the UK, modern aircraft and
the next steps in his career.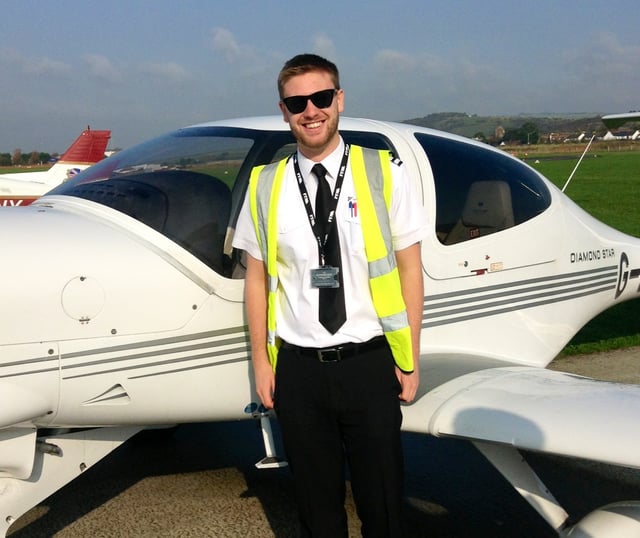 FTA Cadet Charlie Harman
Why do you want to learn to fly?
I chose to take this course as I feel that aviation will make for a secure and fulfilling career. Aviation is something of a family tradition; my father, sister and cousin are all pilots and my mother flew as cabin crew. This family influence inspired me to realise my aviation goals.
What inspired you to fly – was there a role model or key event in your life?
Well, my family is a big inspiration. Alongside family, I was in the air cadets as a teenager, so I got to experience flying with them.
What course are you taking and what stage are you at?
I am doing the integrated course and taking the first modules of the flight training, before starting the ground school subjects over winter.
What's important to you in your choice of flight school?
I think the most important aspects of a flight school are the facilities for students and the type of aircraft that you train in.
Why did you choose FTA?
I chose FTA primarily because all the training is carried out in the UK, so you learn to fly in all sorts of weather right from the start. Plus the training aircraft fleet is very modern and swish! The location of FTA was also the most convenient for me, as I grew up about 5 miles away from the school and I know the area.
What aspect of your training do you most enjoy?
I really enjoy the meteorology, navigation and flight planning aspects of flight training, as I can relate to them in a more practical sense. And, obviously, the flying has been amazing!
What is the most memorable or rewarding moment of your training so far?
The most rewarding moment for me, so far, was passing the final exam after the initial three week training period. I feel that the hard work I put in with regard to revision really paid off and it has given me more confidence for the next set of exams.
Do you have any advice for others, thinking about pilot training?
Work hard, dedicate time for your studies and keep up to date with all your notes from different lessons.
What are your next training steps?
I start the ground school modules in a few weeks and will hopefully finish the 14 ATPL exams by May next year.
What are your ultimate career goals?
I'd really like to work for a major airline like Virgin Atlantic or British Airways as a career pilot.