We talked to Faisal Mohyud-Din, an FTA cadet nearing the end of his integrated training, about his aviation ambitions and his experience at FTA so far.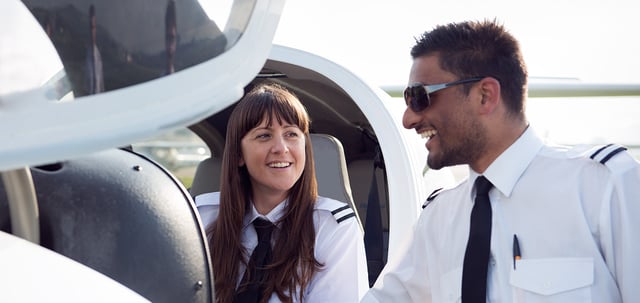 Faisal on the right, posing for an FTA photoshoot.
AT FTA, YOU FEEL LIKE YOU HAVE A BOND WITH THE OTHER STUDENTS AND INSTRUCTORS, AS TRAINING IS PERSONALISED FOR YOU…THE PRICE OF THE COURSE COMPARED TO OTHER FLIGHT SCHOOLS IS REMARKABLE. I'M ACHIEVING THE SAME LICENSE AND TRAINING (IF NOT BETTER IN TERMS OF QUALITY) FOR A LOWER PRICE.
Why did you want to learn to fly?
Flying has always been a strong passion for me. Ever since I was a child and the first time that I saw an aircraft up close, I always thought that one day I would be flying.
What inspired you to learn to fly – was there a role model or key event in your life?
At a very early stage in my life, as young as three years old, I knew that I would become a pilot – regardless of the challenge. The first time I remember going on holiday with my family, I remember standing at the gate waiting to board with my face stuck against the glass, staring at the flight deck window and thinking, 'I wish that could be me'.
That planted a seed in my mind to chase my dream; I wanted to be in charge of flying an aircraft. I've always been fascinated by the way that a piece of heavy metal soars down the runway with such ease and lifts into the air, as all those people sit on there drinking their gin and tonics, totally oblivious to the remarkable engineering that has gone into that aircraft so they can enjoy a pleasant and comfortable journey 38,000 feet up in the sky.
What course are you taking at FTA and what stage are you at?
Currently I'm on the Integrated Course at FTA and loving every moment. It's been a challenge but every minute has bought me closer to achieving my dream. Having successfully attained my CPL, I'm two-thirds of the way through the last part of training, which is the IR (Instrument Rating). It's always a challenge learning new things, however my passion for aviation drives me to succeed and makes me work harder to reach my final goal.
How was your first solo flight?
When I took my first solo, I was speechless! As I rolled down the runway, alone in the aircraft without an instructor, I felt a sense of adrenaline and had the realisation that I was actually doing this solo. As I became airborne, I could see the earth moving further and further away and I thought, 'Wow! I'm actually flying this thing alone'. Having watched aircraft roll down the runway in the past, thinking 'I wish that could be me', now I was actually the one sitting in the left hand seat, pushing the throttles forward.
What's important to you in your choice of flight school and why did you choose FTA?
I considered quite a few flight schools, however I wanted to go to an organisation where I felt part of the group and not just a number. At FTA, you feel like you have a bond with the other students and instructors, as training is personalised for you. Also, the price of the course compared to other flight schools is remarkable. I'm achieving the same license and training (if not better in terms of quality) for a lower price. The money I've saved on the course can be spent on a type rating in the not-too distant future.
What aspect of your training do you most enjoy?
The most enjoyable part of my flight training was the CPL training; sitting in the Diamond Twinstar, doing all kinds of emergency drills such as engine failures, engine shutdown drills and all sorts of mind-boggling stuff – it gave me a sense of flight command. It made me realise that an aircraft isn't just a pretty piece of metal and in fact it requires a lot of mental and physical strength to make such an art form in the sky.
What's your most memorable or rewarding moment in your training so far?
The most rewarding moment of my training was the day I completed my CPL test. Finally after all the dreaming, dedication and hard work, I'd succeeded and become a commercial pilot. I remember going home that day and just lying on my bed thinking, 'I've done it'.
Do you have any advice for others, thinking about pilot training?
For anyone looking to start flight training there are many things to consider. I'd say that the most important things to consider are: where do you feel most comfortable and where will you be addressed as an individual and not just as another student. Also, who can deliver quality training at the best price, to help you achieve your final goal.
What are your next training steps?
My next step after completing training is to secure a job with an airline or within the private jet industry. With the help of FTA, I potentially have a job before I even finish my training, which is a rarity in the industry, but it offers a brilliant opportunity to progress rapidly and I wouldn't miss this chance for the world. Watch this space!
What are your ultimate career goals?
Ultimately, I'd like to work for one of the leading Middle Eastern airlines, flying the 777 long haul. But looking at how far I've come in such a small amount of time, I know it won't be long before my ultimate dream is achieved.