We spoke to George Graulich about his pilot training experience at FTA so far.
Read his story here: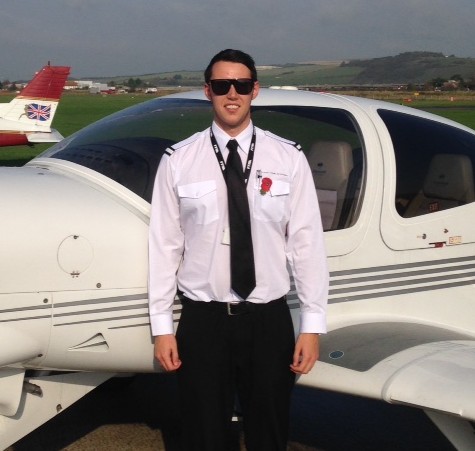 FTA Pilot Cadet George Graulich
Why do you want to learn to fly?
I wanted to learn to fly because it will enable me to fulfil my dream of having a career within aviation: a career that leads to further development and continual learning.
What inspired you to fly – was there a role model or key event in your life?
I've been lucky to travel quite a lot, so whenever I was on an aircraft I always thought 'why don't I make this my career?' I put it off for a while because it actually made me slightly nervous, with the thought of so much responsibility, but I'm so glad I have made the decision I have and to train with FTA.
What course are you taking and what stage are you at?
I am currently on the Flight Deck Programme and have completed the three week foundation ground school and I'm onto phase one of flying, before heading back into the classroom for the ATPL's in early November.
What's important to you in your choice of flight school?
Honesty is very important; no promises which seem too good to be true plus good training aircraft, quality instructors and a reasonable course price.
Why did you choose FTA?
I visited FTA and had a tour around the campus. They were very honest about the training and answered every question I had without trying to hide anything, so first impressions helped! The aircraft they use are great and the fact that you do all your training in the UK is important. Everyone at FTA feels it will help make us better pilots, because the weather and the heavily congested airspace in the UK provides a real training ground, compared to flying around a desert with little commercial traffic and clear weather every day.
What aspect of your training do you most enjoy?
The flying; it always makes me smile walking to the plane. It's a great feeling to know that you are in control of the aircraft, flying over some pretty spectacular terrain, while being instructed to a very high level.
What's your most memorable or rewarding moment in your training so far?
My first solo flight. It's the first time you're allowed in the aircraft by yourself to complete one circuit, the quickest 6 minutes of your life but I'll never forget it and it's a privilege that the instructor has decided that they are happy, that you are competent and safe enough to complete this milestone.
Do you have any advice for others, thinking about pilot training?
Look around as many places as possible, talk to as many people as possible including parents, guardians, friends and people in the industry. Try to learn as much as you can about the aviation industry. If it's what you want to do and you have every belief in yourself, then go chase the dream.
What are your next training steps?
Next steps are ground school for six months which comes with 14 exams. This will probably be the hardest part of the training but the reward of getting back into flying over the summer months is a good enough incentive.
What are your ultimate career goals?
As I'm on the Flight Deck Programme, the course is geared towards commercial operations, which is what I would like to do career wise. My ultimate goal is to be based in the UK as a first officer, initially for a commercial airline and then work hard to gain my command.