We recently talked to cadet Nidal Elhebshi, who is taking the Integrated Flight Deck Programme with FTA, to see how he is finding the course so far.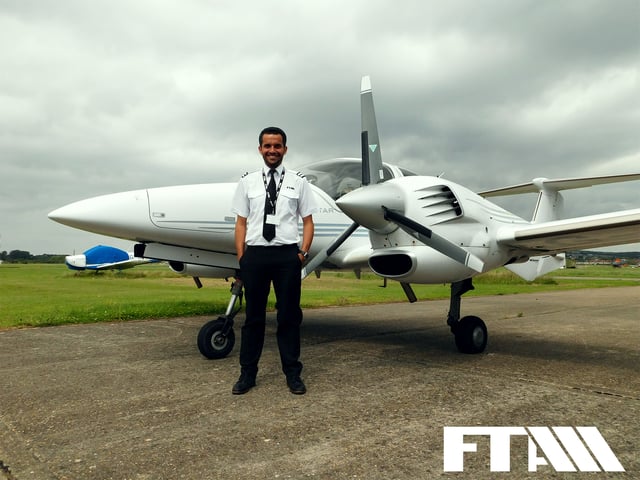 Why do you want to learn to fly?
I've wanted to become a pilot for as long as I can remember. As I grew older, I became more attached to the idea; it seemed like a good career that could provide a good future for me.
What inspired you to fly – was there a role model or key event in your life?
I had an uncle who was a pilot; he was always telling me where he went, how interesting it was to travel, seeing all kind of places and meeting different people. I always liked listening to his stories and I thought, 'I want to do that'.
What course are you taking and what stage are you at?
I'm taking the Integrated Flight Deck Programme. I've already finished three phases of flying and at the moment I'm doing ground school, though I can't wait to get back to flying.
How was your first solo flight?
It was amazing; the first time I'd flown a plane on my own. I can still remember when my instructor, Ben, told me that I was going solo – it was really exciting.
What's important to you in your choice of flight school?
I was looking for a good fleet of training aircraft and most importantly to me: professional flight instructors. And I was not disappointed!
Why did you choose FTA?
I am a sponsored student, so I was sent here on a scheme from my home country.
What aspect of your training do you most enjoy?
I enjoy solo navigation flights the most, I like flying around and seeing the view from above.
What's your most memorable or rewarding moment in your training so far?
Flying solo for the first time.
Do you have any advice for others thinking about pilot training?
It's fun but be prepared for hard work.
What are your next training steps?
I will finish the flying phases and take my CPL and IR.
What are your ultimate career goals?
At the moment, I'm looking for any role that allows me to fly but like most pilots, I would like to work with a commercial airline.