We recently spoke to Gianluca Ciaraldi, a current cadet training with FTA, about his aviation inspiration, his experiences so far and his career goals. Read his story here: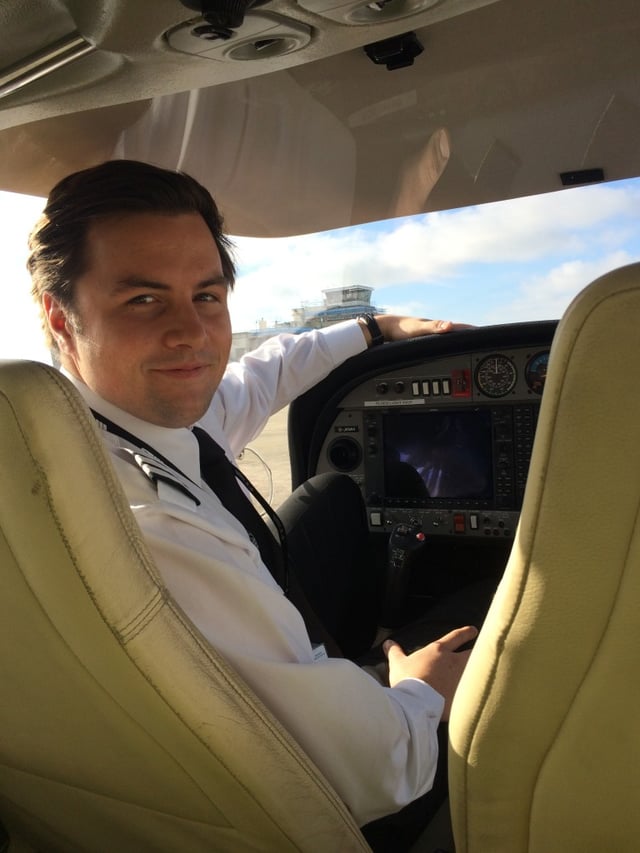 FTA Cadet Pilot Gianluca Ciaraldi
Why did you want to learn to fly and what inspired you was there a role model
or key event in your life?
People say this a lot but flying was always a boyhood dream for me. From a young age, I just knew it's what I wanted to do. My role model is definitely my Dad; he was a pilot flying the King Air and finished his career on the DC9. I grew up in Kenya, I used to hang around at the aero club a lot with my Dad and I'd meet all the pilots and they'd let me sit in the cockpit. Also my Mum was based in Italy and she worked for Alitalia for 35 years, so from a young age I was always involved in aviation. She always managed to get me onto the flight deck whenever possible and I was just in awe of the pilots and the planes. I couldn't really see myself doing anything else.
What course are you taking and what stage are you at?
I'm doing the Integrated Flight Deck Programme at FTA, which is the integrated course that FTA offers. I'm about halfway through the last stage of the course, which is the Instrument Rating.
What's important to you in your choice of flight school?
To me personally, a flight school should have a good fleet of training aircraft, a good reputation in terms of prospective employers and most importantly a friendly environment with lots of support.
Why did you choose FTA?
I chose FTA as it ticked all the boxes for me that I mentioned above. The training aircraft are great, the school has a great reputation and the quality of the training they deliver is excellent. Also, the atmosphere within FTA is great and the instructors are always looking out for you.
What aspect of your training do you most enjoy?
I've enjoyed all of my training but by far the most enjoyable part is the Instrument Rating. I really enjoy planning my flights, then putting it into practice and hearing all the big jets on the radio makes it very exciting!
What's your most memorable or rewarding training moment so far?
So far, the most rewarding moments were when I passed all the theory exams after 6 months of studying and passing my CPL test. However, I'm sure the most rewarding moment will be when I receive my license through the post! My most memorable moment was when my instructor and I managed to fly over the Gatwick runway and we saw all the big jets departing and arriving up close.
Do you have any advice for others, thinking about commercial pilot training?
The best advice I can give to anyone who's thinking of taking up flying as a career is make sure you can commit yourself to it, as it can get quite intense and put the hard work in on the ground and it'll make the flying a lot simpler.
What are your next training steps?

Next for me is to finish my Instrument Rating, then do a Multi Crew Cooperation (MCC) course and the hopefully try and secure a job.
What are your ultimate career goals?

The ultimate career goal would be to work for one of the big airlines or fly a business jet for a private owner. However, I think I'll definitely follow my roots back to Kenya at some point later on in life and end my career with the thrills of bush flying.