Dmitrijs Misurinskihs
talks about

his role with Ryanair and the job application process...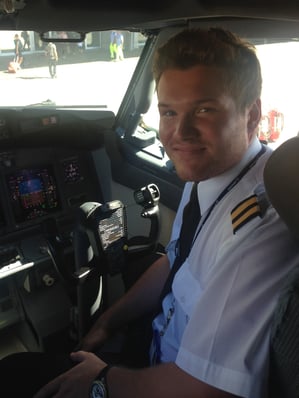 Why did you train to be a pilot?
It was always my dream and goal from childhood; my father is a captain, so I always wanted to follow him and I thought it would be a good idea to become a commercial pilot as well. At the moment we work for the same company, so I'm looking forward to meeting him on a flight deck one day.
How did you go about choosing a commercial pilot training school and what aspects were important to you?
I wanted to do all my flight training in UK and I was looking for an integrated course, so FTA was a great choice for me. And I was very happy to learn to fly in FTA's very modern fleet of Diamond aircraft.
What qualifications did you take and how did you find the course?
I took FTA's Integrated Flight Deck programme. So at the end of the course I had my CPL, IR and MCC certificate. I really enjoyed the course; it was really exciting and challenging, especially the ATPL ground school and IR course. I want to take this opportunity to thank all the instructors, they were very helpful and supported me from the first day of training.
How long did it take you to complete your FTA course?
From the first day to the IR test, it took 18 months, due to the weather.
Can you briefly outline the application and interview process for the role that you've taken?
I applied to Ryanair with an online application. Then they called me and I was invited to do an assessment in Dublin on the 22 of October. Before the assessment, I had some practice in the 737 simulator, to become more familiar with the flight deck and aircraft handling. On the day of the assessment, there was a group of us; everyone had a partner for the simulator assessment. After that, we had technical and HR interview. One week after the assessment day, I received the great news that I'd succeeded at the assessment and I could start my type rating course on the 23rd of March at East Midlands.
Do you think that completing all of your training in the UK gave you an 'edge' at simulator and interview sessions?
Yes, it was great practice, given the busy airspace and UK weather conditions, especially during IR training and it helped me with R/T (Radiotelephony) element. And I think that it was a great advantage for me during the interview stage.
Were there any other FTA cadets on the same Ryanair course as you?
I know of three other FTA students that are currently doing or starting their course with Ryanair shortly.
How long did

it take to get an interview with ryanair

?
After obtaining my MCC certificate, it took about 6 weeks to get a call from Ryanair.
I started my type rating on 23rd of March; since then I've finished ground school and passed all of my theoretical exams, line skill test and I've completed base training. At the moment I'm doing line training in sunny Alghero in Sardinia.
Can you describe a 'typical' day in your job?
Before the flight, I check my briefing pack, weather and NOTAMs for all destinations and alternates. Basically, it's the same preparation that I was doing for my cross country flights. The captain then briefs our crew, so there we are ready to go and check our aircraft. Pilot monitoring staff will do the walk around and supervise the refuelling and pilot flying staff do the full setup for the flight. Usually, we have 4 sectors each day, some of them are quite short, so it's always a good challenge. After the flight we go back to the crew room to check through all of the paperwork and check out.
People in this industry are always ready to help you at any time and are all very friendly.
What

is

the most enjoyable aspect of your job?
For me it's the dream job. I spend 5 days flying around Europe, seeing our beautiful world from above and meeting new people. During my days off, I can go home to enjoy other aspects of my life, do whatever I want, or travel somewhere. People in this industry are always ready to help you at any time and are all very friendly. Someone who you just met in the crew room can became your good friend after one day of flying together.
what would you like to do in the future?
I'm very happy that I've secured a role with one of the largest airlines in Europe. For the moment, my goals are to gain experience and flight hours to unfreeze my ATPL licence. In the future, my dream is to become a commander on long haul flights.