We recently heard from former FTA student, James Grabham, who completed his training with FTA and now flies for Cathay Pacific.
Read his story here: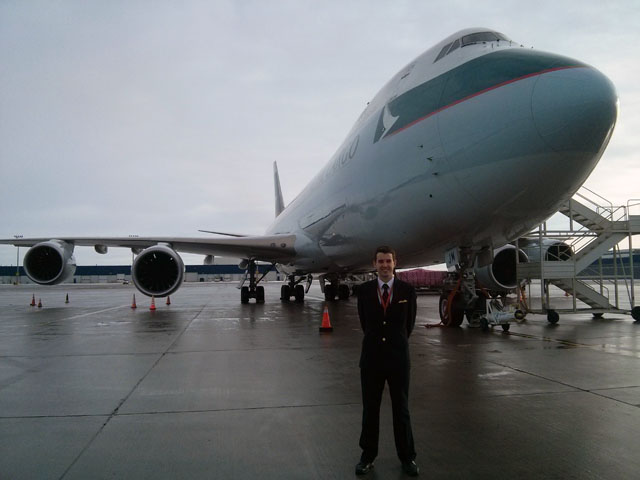 FTA pilot graduate James Grabham at Cathay Pacific
What made you want to become a pilot?
I began flying in an old C-152, Registration G-OBEN, when I was 14. I still remember the first flights with Mr Davies – AKA 'Moose'. I had 5 taster sessions to make sure that flying was for me. Soon after, I joined the Air Training Corps. They gave me aerobatics sessions in the Grob Tutor and I would definitely recommend the ATC to anyone wanting to experience a taste of military flying, designed for a younger age group.
How was your training and how did you come to train with FTA?
Once my secondary education was completed, I joined a flying school in Bournemouth affiliated with Kingston University; they offered a combined course to provide me with a frozen ATPL and a BSc degree in Aviation Studies. With them, I completed my PPL in Florida, as well as some hour building. I then came back to the UK to complete my degree alongside the ATPL subjects. After that, I searched the country looking for the best school for me to continue my training. I quickly realised all the major schools wanted a lot of money, with no opportunity for a prized spot in their holding pools unless I had done a full ab-initio course with them.
I returned to FTA meanwhile, to keep my PPL current, and slowly built my hours to the minimum required to start my Commercial licence. After experiencing FTA's competency in teaching, friendly staff and beautiful fleet of Diamond aircraft, I found that they also offered an attractive training package for my CPL/IR. Shoreham was relatively local for me, which really helped to reduce costs. More importantly Shoreham is a central, yet rural location – being close enough to very busy airspace to provide a good training experience but far enough away as to provide a comfortable learning environment. Having decided that FTA offered the most efficient path for me, I started my training in mid-2011; by the end of the year I had completed my CPL and IR in the most cost effective way possible.
On that note, I'd like to add a big thank you to all the FTA instructors for their hard work in moulding me into a successful pilot.
What happened after you completed your training with FTA?
During my training I was acutely aware that I had to actively search for jobs; the moment you finish your training the clock is ticking. After hearing about Cathay Pacific from a friend in the ATC, I swiftly sent in an application for their Cadet Scheme based in Australia.
The first interview was at Cathay Pacific's London offices, consisting of various technical questions lasting about 45 minutes and personal questions lasting about 20 minutes, as well as short technical and mathematical multiple choice quizzes.
A few months later, I was invited to Hong Kong for a more in-depth assessment at the Cathay Pacific head office. This was a 2 day assessment, including a maths test, medical, group and teamwork assessment as well as a personal and technical interview (details of the full process can be found online if anyone wants to find out more.) In aviation jobs, nothing happens fast, so it pays to be patient! A couple of months later I was invited to Adelaide to commence a week of flying assessments. After this process, a full 14 month ab-initio course was offered to me, which I subsequently completed, before commencing work as a Second Officer at Cathay Pacific.
How do you enjoy your role with Cathay Pacific?
A year down the line from joining the company, I find Hong Kong and Asia in general, an amazing place to be. I began with the 747-400, flying to places like Johannesburg and San-Francisco but have now progressed onto the 747-8, which operates in places like snowy Anchorage, New York, LA and Vancouver.
The job as a cruise relief pilot is virtually the same as all the other pilots in the company; the main difference is that we are prohibited from operating at the controls below 20,000ft – except in an emergency. Whilst that might sound unappealing, we have still been trained to a fully competent standard in the simulators to operate the aircraft in the same conditions as the First Officers, so don't write the role of Second Officer off! You get beautiful long haul rosters and really high quality training; the role is described as being similar to an apprenticeship. Cathay Pacific is a legacy airline, with plenty of stability and potential for upgrades. I hope to become a First Officer in 2 years time, operating 777-300ER or A350s all over the world.
Any advice for people looking to take commercial pilot training?
I wish anyone who's thinking about training the best of luck; it's a serious and mammoth task. But with the right flying school, quality training and hard work, you will prevail!