Olly has been offered a place as a First Officer with Ryanair – here he recalls his journey.
My favourite part of learning to fly was flying an IFR approach in IMC. It was with amazing satisfaction that I saw the runaway appear in front of me as I descended from the clouds.
It was a challenge to take in the huge amount of information that needed to be learnt throughout the course; the key was to organise my time efficiently and never let the workload overwhelm me.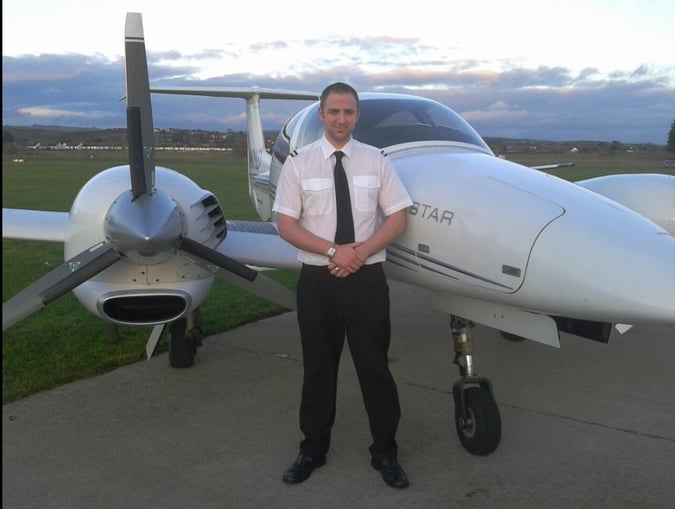 FTA Pilot Graduate Olly Hilton
FTA
During my training with FTA, I learnt how to stay one step ahead of the aircraft and the rule of ANC: Aviate, Navigate, and Communicate. I believe that these skills will prove vital to my career. While these systems may seem simple and obvious, they can be easily neglected in the stress of the moment, and are essential whatever aircraft you are flying, be it a 737 or 152.
Career
After leaving FTA and gaining my MCC, I grappled with the reality of how hard it is for new pilots to gain their first job. Luckily, things finally seem to be picking up in the job market and – about a year and a half after completing my training – I got invited to an assessment day with Ryanair. Shortly after my assessment I was offered the position as First Officer.
THE CHALLENGES AND SATISFACTION THAT COMES WITH A CAREER IN COMMERCIAL AVIATION
CONTINUE TO EXCITE ME.
Opportunities

The prospect of going to places that I never would have visited without a job in the air, as well as the challenges and satisfaction that comes with a career in commercial aviation, continue to excite me and give me great hope: now and for the future.