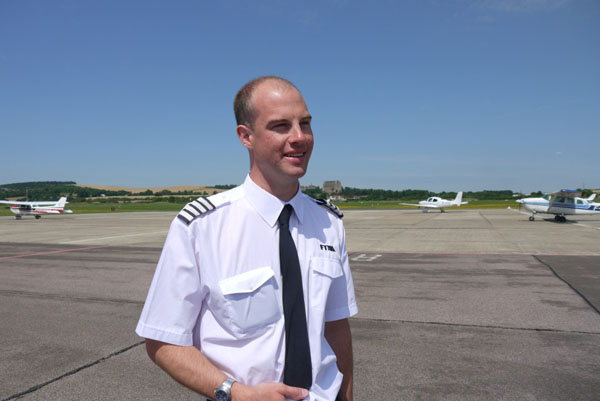 FTA Pilot Instructor Phil
Former FTA student, and now instructor Phil tells us all about his story of fulfilling his dream to obtain a career in aviation.
Biggin Hill Airshow 1998, 11 years old, was the time when I looked at the aircraft and said one day I want to be flying that. Fast forward 4 years, being asked by my maths teacher what I wanted to be when I was older, "a pilot" I said, "you will never be clever enough to be a pilot". That, in conjunction with a general view of becoming a pilot is only for the elite and the dream started to fade away.
I left school, went to sixth form, got a few A-levels and then started working in numerous jobs, deciding what I wanted to do, always with the thought of becoming a pilot in my mind but it never being more than a thought. Then one day after work I thought I would have a look on the internet at flying lessons. I didn't set out immediately to get my frozen ATPL to become a commercial pilot, I just wanted to take a few lessons and see how I got on. I simply put 'flying lessons shoreham' and the first link that appeared was FTA. I called up, booked a lesson and the rest is history…..
I started in a Cessna 152 and reached my first solo flight and consolidation. That is one of my most significant memories of learning to fly. I looked over at the right hand seat several times, thinking how surreal it was; the flight was over too quickly, and I consolidated my solo circuits within a week. At this point I moved onto the Diamond DA40 for the remaining hours and never looked back. As soon as I had flown it for 5 minutes I was really impressed and decided I would complete my training in it.
After completing my PPL in November 2007, I left my full time job and became self employed as a labourer doing building work to fund flying whilst studying and hour building; this was a difficult time as I had to juggle lots of things, but it worked out and after 18months I was ready to start my CPL and IR.
The CPL was the most enjoyable course during my training. I had pushed myself hard during my hour building to practise navigation and my general handling and it paid off for the CPL, with the only new thing to learn being flying the twin.
After a 2 week break I commenced my IR. This was an extremely rewarding time as it felt as though all the skills I had learnt during my training were coming together to enable me to fly a twin engine aircraft in controlled airspace in IMC. The course progressed well and I took my test on a stormy November afternoon from Bournemouth. I would say that this flight was the most challenging I have ever had, but the feeling of being told I had passed has not been beaten to this day, and I don't think it ever will.
I spent some time looking for a job as a first officer, however there were not too many opportunities available and the few applications I made were unsuccessful. FTA approached me and asked whether I would be interested in becoming an instructor and working for them. I spoke to other instructors and made sure I did some research as I did not want to go into the job half-heartedly. I saw that the job would be very rewarding and give me a huge amount of experience, also improving my skills as a pilot.
Within a few months I had passed my Flight Instructor test and was taken on by FTA as a PPL instructor. A common mis-conception of instructing is that it is poorly paid, the hours are long and it can be difficult to earn a living in winter. Contrary to that, I earn a decent salary, I am home every evening and I can plan my holidays and weekends a long way in advance.
After building my experience as an instructor I took a course to teach on multi engine aircraft and removed the instrument restriction. This enabled me to teach students on the Commercial Pilots License course and for the Instrument rating. So now I teach all phases of the integrated programme and also fly with students on mock tests before they go for test with a CAA examiner.
The job as an instructor is great, many of my colleagues have taken the same training route as myself and we work well together as a team with good camaraderie. We have an excellent remuneration package with bonus and benefits that are comparable or exceed ones offered by many airlines.
Another great thing about instructing is the variation. In one working day I have instructed in 5 different types of aircraft which really ensures that you are concentrating to remember (and ensure the student remembers) the differences. It also opens other opportunities, such as flying an aircraft to Austria for a modification and staying away at another airport to do night training.
The job is tough but very rewarding, no two days are the same and I never know exactly what a flight may bring!
Since this interview Phil has been promoted to Head of Training for FTA Global and is responsible for recruiting our next generation of Flight Instructors.