We caught up with Thibault Irénée who graduated from our Modular course in 2016. Now a working as a First Officer at Ryanair, Thibault explains how training at FTA helped him follow the pathway to success.
Why did you train to be a pilot?
As far as I can remember I have always been passionate about aviation. My father has been working as a professional helicopter pilot for more than thirty years and has always shared his passion of flying with me. I guess I can say that aviation is in my DNA! With such an inspiring role model, being a pilot presented a unique opportunity for me to mix passion alongside a fulfilling career.
How did you go about choosing a flying school and what aspects were important to you?
For me, my ultimate goal was to secure a job as a pilot upon completion of my training. Therefore the question was: Which flying school will prepare me efficiently to achieve that goal?

My requirements were simple and well defined; to be in an English speaking environment and to train with a professional and reputable flying school in a busy and complex airspace. Choosing a flight school in the United Kingdom appeared to be the best compromise for me in terms of language, quality of training and job opportunities once graduated.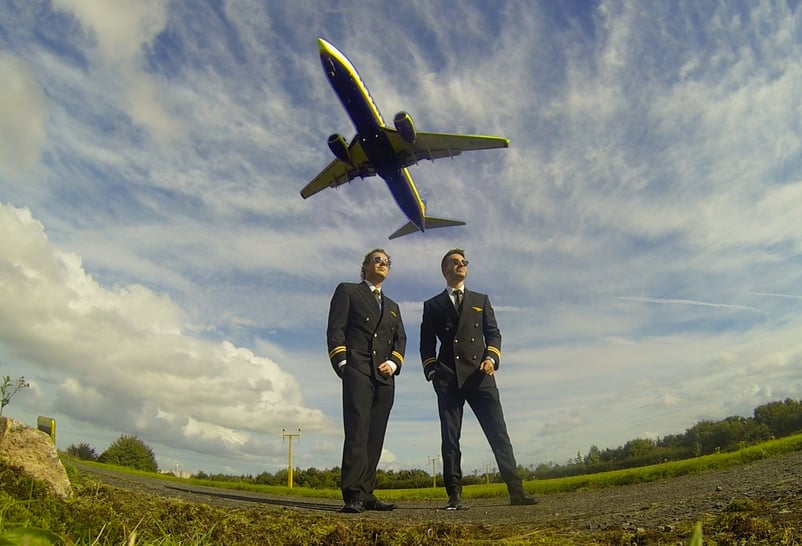 How did you DISCOVER FTA?
It was word of mouth that led me to FTA first of all. I was hearing very good and positive feedback about their flying school during my ATPL theory studies in Bristol. I visited the website and a few elements hit the nail on the head; a modest structure permitting a friendly and tailored trainee support, a young and modern fleet of Diamond aircraft, competitive fees and an interesting geographical location at Brighton City Airport. I contacted the school and got an answer within hours. This confirmed the seriousness and availability of their team, which was determinant in my decision.
What COURSES did you COMPLETE and WHAT DID you THINK OF THE TRAINING?
My engineering company offered me a five month break to follow the modular ME-IR-CPL course. The multi-engine rating took approximately three weeks to complete and was very exciting as it was my first experience on a glass-cockpit aircraft.
After that, I started the instrument rating. This entailed approximately a month in the simulator, which is a great opportunity to build up confidence and reach the required level before getting back in the real aircraft. Once that was completed, the CPL was done really quickly, in two to three weeks.
I enjoyed flying consistently with only a few instructors because this permitted an accurate follow up of my improvement throughout the flights. The gradual level of difficulty facilitated the learning and guided me towards the skill tests, which I passed with serenity because I was well prepared. The respect of the schedule was very important for me because of my work. Needless to say I was really happy to be done in just four months instead of five months, allowing me to complete the MCC course as well before getting back to work!
I ENJOYED FLYING CONSISTENTLY WITH ONLY A FEW INSTRUCTORS BECAUSE THIS PERMITTED AN ACCURATE FOLLOW UP OF MY IMPROVEMENT THROUGHOUT THE FLIGHTS
How long did it take you TO SECURE YOUR FIRST job offer?
After completion of the course, I had to wait approximately one month to receive my CAA licence, which is a mandatory document required to apply to job advertisements. Just one week after having submitted my application to Ryanair (via CAE), they sent me the precious email saying that I will soon be invited for an interview. Four weeks after my application, I went to Dublin for the interview and one week after I got the positive answer. To be honest, I wasn't expecting to secure a job that quickly, I feel really lucky! I was also pleasantly surprised to meet former students of FTA during the type rating in East Midlands.
How did you hear about the job opportunity with Ryanair?
This airline is well reputed and known as one of the biggest in Europe, with an incredible expansion and therefore offering many opportunities to cadets and experienced pilots.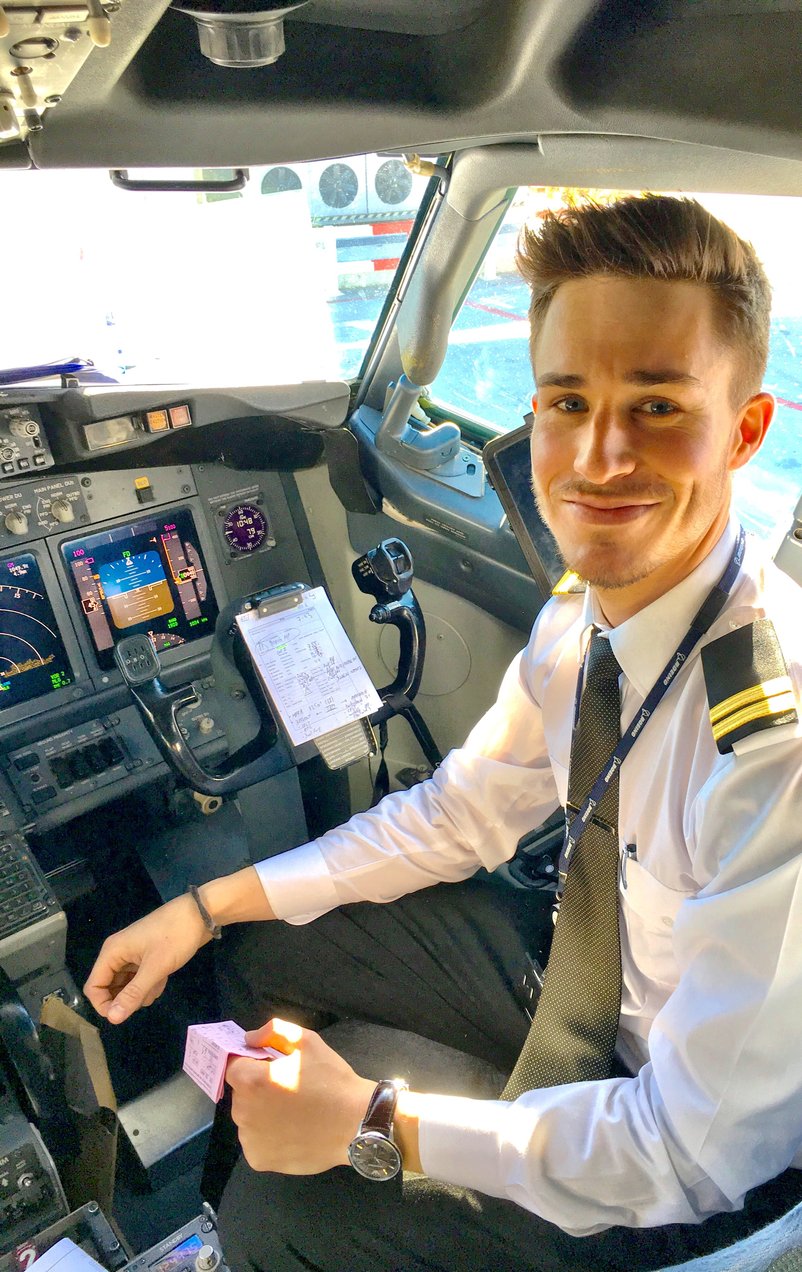 Can you briefly outline the application/interview process for the role?
Once you are in the "system", you can expect to receive an email from CAE to advise you that you will be called within 14 days for a phone interview. This is the opportunity for them to quickly evaluate your English level, make sure that all your licences/ratings are current and finally to invite you in Dublin for the interview.
Generally, 8 candidates are invited for the interview which is divided in two distinct parts: the sim assessment and the technical/HR interview. You are paired with another candidate for the sim assessment, in which they will ask you to perform basic manoeuvers, deal with a non-normal situation and perform an instrument approach. That is approximately forty five minutes per candidate and you will act as both Pilot Flying and Pilot Monitoring. They don't expect you to be current on the 737, they really emphasize on CRM skills and want to see an efficient flight deck with spare capacities to deal with flying and managing the non-normal event.
The interview itself might happen before or after the sim assessment and you will be questioned by the sim assessor about your technical knowledge (previous aircrafts such as DA42 etc. and/or B737/general ATPL theory) and by a HR assessor about your personality and motivations. The assessors are friendly and do their best to make you feel comfortable and not too anxious.
HOW LONG HAVE YOU BEEN IN THIS JOB AND ARE YOU ENJOYING THE ROLE?
I started the type rating course five months ago and have been flying in line training for approximately a month, so this is very recent! It is pure bliss, I am really delighted to fly and this confirms that all the effort I've made was totally worth it. Going to work with a smile on your face is priceless.
CAN YOU DESCRIBE A 'TYPICAL' DAY IN YOUR JOB?
IT IS PURE BLISS, I AM REALLY DELIGHTED TO FLY AND THIS CONFIRMS THAT ALL THE EFFORT I'VE MADE WAS TOTALLY WORTH IT. GOING TO WORK WITH A SMILE ON YOUR FACE IS PRICELESS
The same principles apply as during the training: preparation is the key! I always make sure to check-in early enough to have time to carefully analyse the maintenance status of the aircraft, weather and NOTAMS for the route of the day, destination airports and alternates.
This will help to advocate on the fuel quantity to carry for each leg and the possible operational limits. I brief the Captain and when we both agree on the fuel figures, he briefs the crew and then we can walk to the aircraft. Separation of tasks implies that you alternatively act as pilot flying or pilot monitoring. Once the flights have been completed, accompanied with the crew I go back to the crew room and verify that all the paperwork is done, check-out and then this is time to go back home!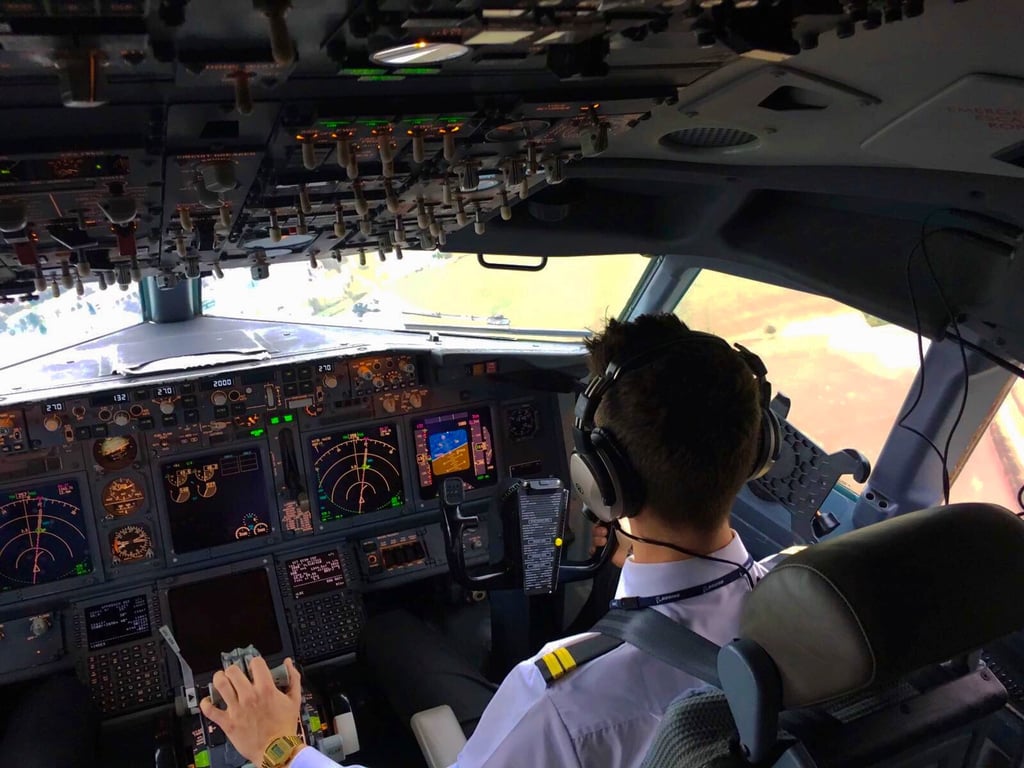 WHAT DO YOU ENJOY MOST ABOUT YOUR JOB?
After having worked as an engineer for five years, I now realize how lucky I am to have such a nice office in the sky. It is a feeling of ecstasy when your passion becomes your job. I get great satisfaction flying such a nice aircraft to so many destinations. Every flight is unique, you'll always have something to learn. I enjoy working with passionate colleagues, the atmosphere is very friendly between crew members. And, because there is life after work, the roster is great and allows you to either travel or practice various activities during days-off!