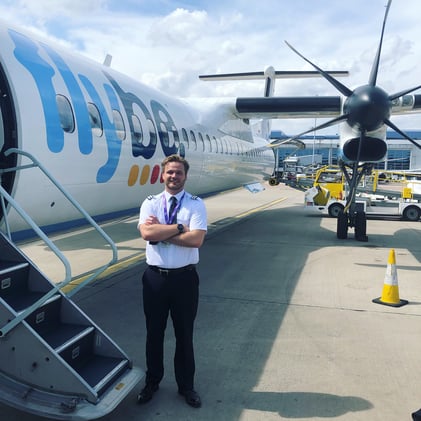 When did you decide you wanted to be a pilot?
As cliché as it sounds, it has been a lifelong ambition. I cannot think of a time when I was ever wavering or undecided in what I wanted to do as a career.
What was it that first sparked your interest in aviation and becoming a pilot?
It would have to be my grandad, when I was little he used to take me to all the air shows, to go watch all the Aircraft taking off from the major Airports near where we lived, and even to this day, he builds model aircraft in his workshop. That along with watching documentaries of all the different kinds of Aircraft growing up meant I was mad about aviation and being a pilot from day one!
What was it that made you decide to start your training?
I was lucky enough that for my birthday one year, I think I was about 15, my parents booked me one of those experience flights you can do at most local flying clubs in the UK. After that flight, it just cemented even more so than before that that was what I wanted to do and so I started training towards my PPL.
Why did you choose FTA for your pilot training?
​I had already done my PPL, Night Rating, ATPLs and Hours building, so I was looking for a flying school in the UK that I could do the final stages of my flight training with after I graduated from University. I found out about FTA through their partnership with my University and through my own research. Ultimately, I can say that my time at FTA includes some of my fondest memories - absolutely everything there: the people, the area, the flying – it is nothing short of an absolute joy to have been a student there.
Can you explain what it was like to go solo for the first time?
It was as much nerve-racking as it was one of the best moments of my life! Having done a flying lesson just beforehand and not been too happy with my landings, I did not have the confidence to go solo after my instructor said I was ready. Once he had talked me through it and insisted that I was as ready as I will ever be, I took off on my own for the first time and straight away the nerves disappeared, the training kicked in and the joy of flying an aircraft solo for the first time is a feeling I will never forget!
What is it like to learn to fly in the UK?
I think the UK is a great place to learn to fly. They say this not only in terms of learning to navigate visually but also flying in all sorts of weather. Once you get into the more advanced stages of training, I think it is a real asset to be able to fly into and around some of the world's busiest Airspace and airports. Being exposed to that air traffic environment prepares you to be able to handle quite challenging and intense flying from the early days of training.
What do you think of the aircraft?
​The Diamond Aircraft at FTA are definitely a great asset to the school. There is a good mixture of Modern Aircraft (DA40 and the DA42) and the older workhorses of pilot training Piper (PA28). You are not only exposed to the latest instruments and equipment you'd expect to see in the flight deck of a commercial aircraft, but you also get to learn the fundamentals of flight in the older aircraft which so many pilots have learnt to fly in over the years.
What was the hardest part of your pilot training?
For me, the hardest part of flight training has definitely been the 14 ATPL theory exams, as well as the ME-IR. What made the theory exams so difficult for me personally was the sheer amount of information and knowledge you need, and are expected, to learn in such a short space of time. It was also the need to retain all this information while constantly learning and being examined on multiple other subjects simultaneously. The ME-IR was also equally difficult but in more of a practical sense, the learning curve is quite steep during flight training but it was here that it felt almost vertical! Being exposed to London air traffic control, getting to grips with the twin-engine DA42, keeping on top of all the Procedures and considerations required to fly into and around controlled airspace and international airports, to say it was intense is an understatement!
What are you doing next?
I have just finished my Line training on the Dash 8 with Flybe, so I have finally achieved the dream of being an airline pilot!
What is it like living here?
I absolutely loved it there and miss it dearly, I try to go back when I can to see my friends and instructors that are still there! Shoreham has got everything you need, as well as being no more than 15 minutes from Brighton which is a great City to socialise and have a good day out with everyone!