A Pilots life for me.
I joined Ryanair in February 2013 as a cadet, with just 220 hours, which I gained from my training at FTA. I completed my Type rating at East Midlands, then my line training at London Stansted, on their excellent B737-800 simulators and aircraft respectively. It was tough and stressful at times, but also one of the most exciting and rewarding times of my life.
I was then sent to Madrid for 6 months, which was a great experience. I met some amazing people, and flew to some new places. But as we all know, theres no place like home, and for me I have been fortunate to be transferred back to the UK
Life as an Airline Pilot is great, it's both challenging and rewarding, and with the vast amount of routes and airfields in Europe and Northern Africa, I am always learning something new every single day.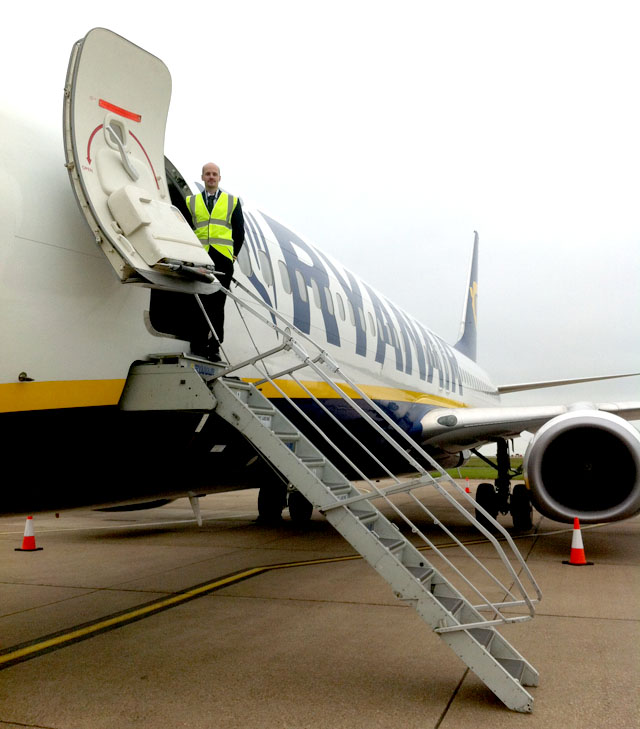 Former FTA Student Tom at Ryanair
How I got here.
For me, it all started one Boxing Day afternoon. The family were round for lunch, left over Bubble and Squeak, board games and the like. We were discussing career options for me, and all the usual came up, but one seem to have stuck… Airline Pilot.
I looked around the various flight school options, at the different aircrafts, course types, and obviously the price, and it was a fairly easy decision. FTA suited me best. It was local, they have a great array of aircraft, Shoreham airfield is in a great location, and the staff all seemed friendly, and don't forget the cost (being the best value I found). And so it began, 7th February 2011 – August 2012.
These 18 months were the hardest of my life, but with great thanks to all of the staff at FTA, the flight instructors, ground instructors, management and don't forget the guys behind the desk (you know who you are!), I got through it, with first time passes throughout, whilst still enjoying every minute.
There were many challenges along the way, from ATPL ground school, to the IR, but as long as you give your full efforts and never give up, you will succeed.
I still remember my first solo to this day, and I'm sure, along with many other moments during my training, I will remember for the rest of my life.
My future.
I don't know what my future holds, I guess no one really does, but all I know is that with the career path I have chosen, it is going to be an amazing one.
You should all be proud of yourself for coming this far, as it is a big decision to make, and I wish you all the best and safe flight!
With great thanks to all of the staff at FTA.
Tom Merrick.