The Private Pilot's Licence (PPL) teaches you the fundamentals of flight and airmanship.
This is an exciting course that will see you progress from your very first flight, through to your first solo (flying on your own) and then flying confidently alone. At the end of your training you will complete a flight test and (upon successful completion) be awarded a CAA PPL (A) or EASA PPL (A).
At FTA, you can obtain your PPL (A) training if studying full time in as little as 10 - 12 weeks (in the summer months) and 14 - 16 weeks (in the winter months). It is important to note that the PPL can take longer, depending on your availability, progression through exams or when in the year you are training. Drier, finer weather will make scheduling consistent lessons more feasible which is often why students look to complete their training during the summer months. This is a self-contained module, taken by many as a recreational licence. However, at FTA we deliver the training with an expectation that you will progress on to more advanced commercial instruction and so the training is delivered with that progression in mind.
The CAA PPL (A) is a licence that allows unrestricted visual flight in a UK registered aircraft, anywhere in the world. The EASA PPL (A) is a licence that allows unrestricted visual flight in an EU registered aircraft, anywhere in the world
COURSE DETAILS:
The course is broken down as follows:
Ground school: multiple-choice examinations

Dual flying: 25-35 hours

Solo flying: 10 hours

Total flying: 45 hours
You must pass nine theoretical exams, to include:
Air law

Human performance

Meteorology

Communications

Principles of flight

Operational procedures

Flight performance and planning

Aircraft general knowledge

Navigation.
Entry Requirements:
As this is a recreational licence, you only require a valid Class two medical certificate before first solo flight (for a UK PPL (A) you will need a UK Class two medical and for a EASA PPL you will need both a UK and EASA Class 2 Medical. Should you wish to progress on to the training require to work for an airline, it is advised that you secure a class one medical before you start your course. Some airlines also have academic requirements, which includes 5 GCSEs (including English and Maths) and preferably two A Levels.
You must be at least 18 years old to enrol on the PPL course with FTA Global.
AIRCRAFT:
We offer the Private Pilot's Licence Instruction in both a Piper PA28 and Diamond DA40 aircraft. Dan is a Flight Instructor and completed his commercial flight training in both the PA28 and DA40. Here he explains the difference very well:
"I like the PA28 because of its stability and conventional instrument layout. Having recently transitioned to the Diamond fleet, I have however appreciated a lot more the ergonomics of a glass cockpit – particularly so during the instrument rating. I think that if you understand the system and controls in the diamond you're in a perfect position to understand those of larger passenger aircraft".
Piper PA28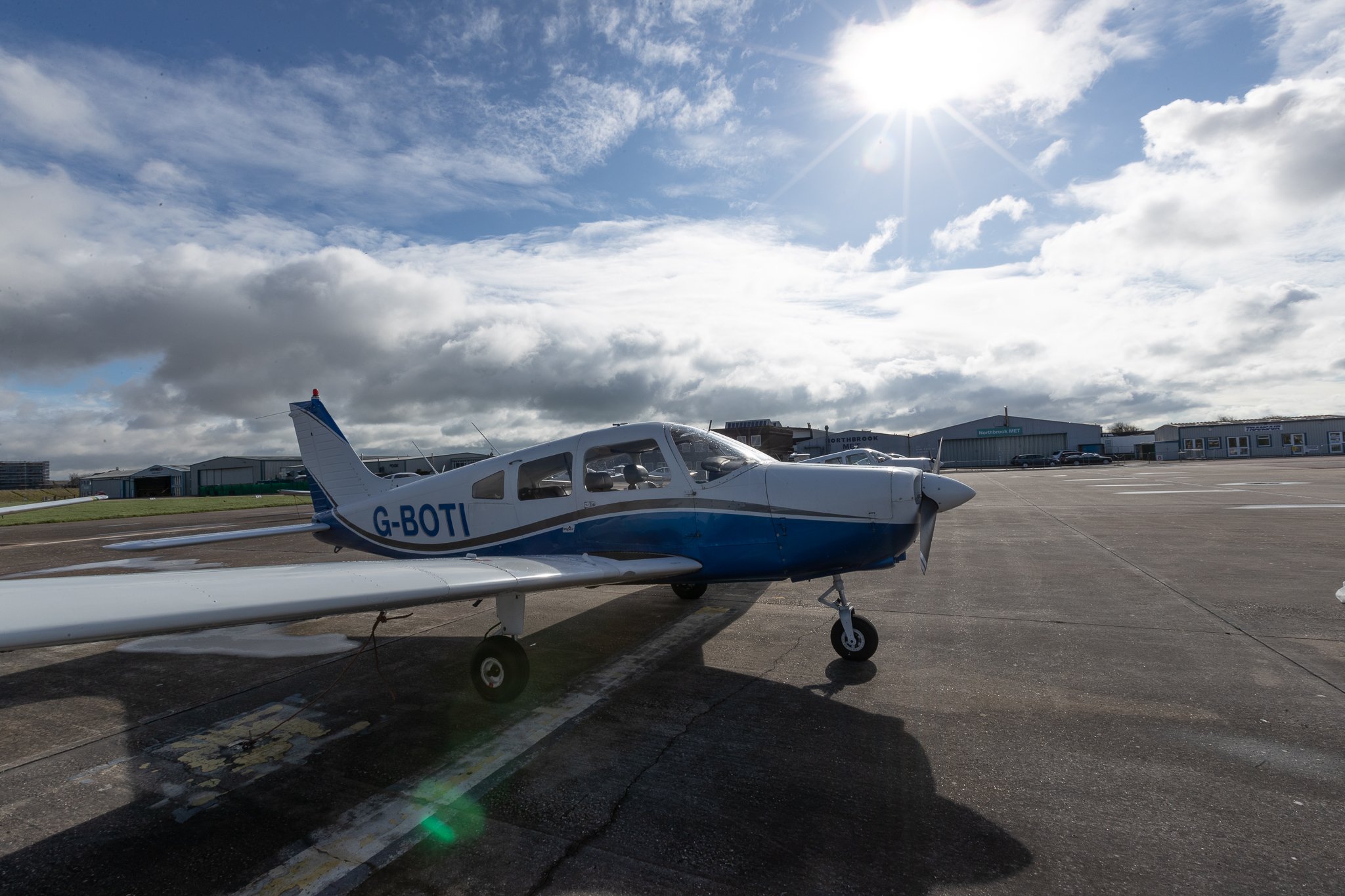 The Piper PA28 is a single-engine aircraft. Dependable and resilient with responsive handling, the Warrior is an ideal aircraft for the demands of student pilot training. Built on the same quality of its Cherokee ancestry, the Warrior comes equipped with a 160 hp Lycoming engine. The Warrior is an exceptional training platform to meet a multitude of flight school requirements.
Students that choose this option tend to do so as the course is slightly cheaper, and they enjoy the handling and joy that comes with flying a more conventional aircraft.
Diamond DA40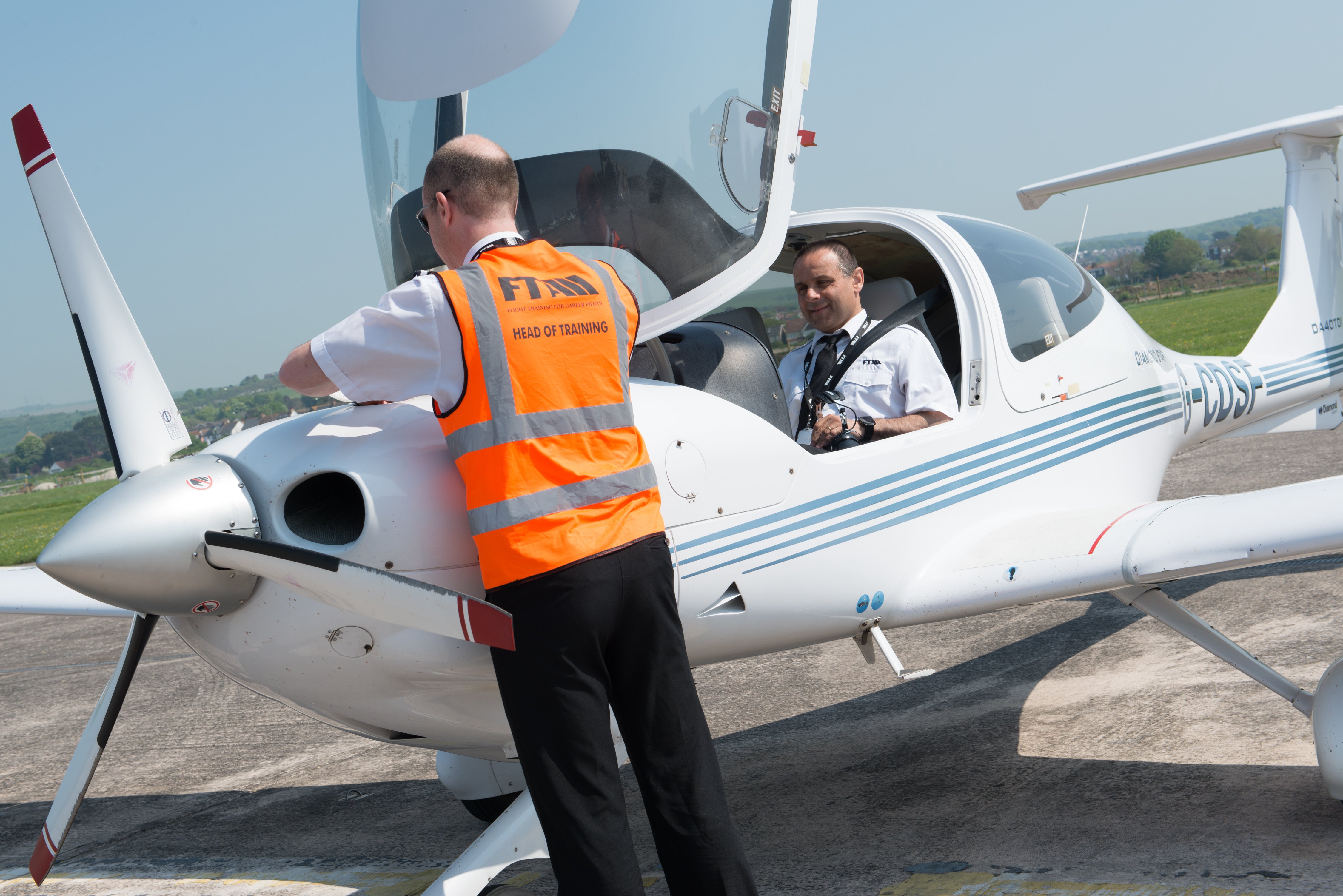 The Diamond Star DA40 is a four seat, single-engine Diamond Star DA40 ideal for training commercial pilots. It has 135 Horse power and features similar systems found in modern commercial airline jets.
All our DA40 aircraft are equipped with the Garmin 1000 Electronic Flight Instrument System (EFIS). The aircraft handles very well, you fly using a control stick rather than a column, and you have good all round visibility thanks to the bubble canopy. The sophisticated systems make for an seamless transition from training aircraft to commercial airlines.
Our students appreciate how the DA40 offers great preparation for the later stages of their pilot training. FTA Graduate and Pilot, Ryan explains:
"The diamond aircraft look fantastic and are unique. It is a very well equipped professional fleet. They are perfect to use for flight training, and I really enjoy flying them. Going from the Diamond DA40 to DA42 was a step, but not huge. The DA42 is powerful, but I didn't feel overwhelmed due to my practice in the DA40. The second engine is very noticeable, and the flying is pretty special."
Course Fee:
If you complete your course in the Piper PA28 the cost is £13,015 (inc VAT).
If you complete your course in the Diamond DA40 the cost is £14,935 (inc VAT).
Course fees include first attempts at the PPL skill test, all 9 PPL written exams, and the practical radio telephony exam.
PAYMENT TERMS:
An initial payment of £2,500 is required to secure your place.
The remaining basic course fees are then payable in equal monthly instalments over the first 6 months of training. Should any additional training/costs be incurred, these would be payable on a weekly basis.
Throughout the course every flight will be drawn from your flying account. Once you reach the end of the course the course deposit will be credited to your flying account, and the remaining balance refunded to you. The course price will be the price agreed at the time of enrolment.