Speaking to potential students never fails to inspire us. There is something special about seeing someone's passion for aviation and relentless ambition to become a pilot. Everyone's story is unique and yet equally as heart warming.
But what is it that is so special about learning to fly, and why be a pilot?
We asked our cadets, pilots, partners and instructors this very question. See below for a few responses, or click here to read our article, 'why become a pilot?' in full.
"That incredible feeling as the wheels leave the ground and the place takes flight is incomparable. whether I am the pilot or the passenger, that feeling makes me breathless."
- Julie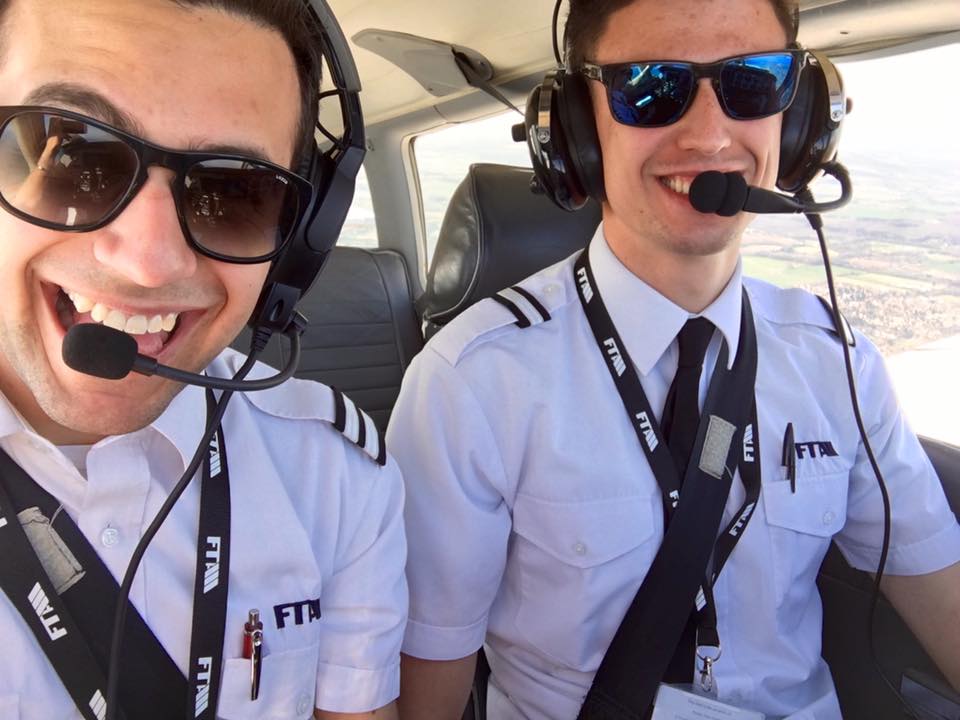 "Being a pilot, especially an airline pilot, gives you the opportunity to work in a highly qualified environment with great achievements every day. Only a few other jobs give such great career prospects, with chances to have some of the highest qualifications in the aviation industry even before their thirties.
Great experiences, high job satisfaction, good lifestyle flying with a fantastic crew and friends and visiting some of the best places in Europe are just a few of the thousands of good things about being a pilot."
- Davide [pictured above, left]
YOUR PILOT TRAINING OPTIONS
This option costs £87,950 and is completed at our campus at Brighton City Airport.
The benefits of completing 100% of your pilot training in the UK
Brighton City Airport has a long history as a destination for trainee pilots. The UK is recognised for generating excellent pilots: the variable weather, air traffic control and congested air space create the perfect training conditions.
At FTA, not only will you be taught by professional, experienced instructors, but you will learn in a supportive and friendly environment which places you at the heart of all its activities.
Whilst we ensure standardisation in our teaching we understand that everyone is different. Students learn in different ways and we work hard to accommodate that.
What do the course fees include?
Our Integrated Flight Deck Programme offers tremendous value for money and includes the following:
All aircraft, simulator and instructor hours
Fuel
Airport fees
Manuals, books and charts
Uniform (excluding shoes)
Electronic identification card
Civil Aviation Authority theory and flight test fees
Aircraft hire for tests
CV preparation & interview workshop
Click here for full information about all our training programmes is available here >>
To book a tour, enrol, or request more information, please contact us:
admissions@fta-global.com / +44 (0) 1273 455177
If intensive training is simply not feasible then you can complete each module of your pilot training one stage at a time. We offer all stages of the commercial pilot training on a modular basis and we offer excellent value, especially when you complete the MEP, IR and ME CPL back to back (and in that order). This three course package costs £26,195 and enrolment is possible throughout the year.
If you decide that modular training, with opportunity to 'pay as you fly' works best for you, then the training you need to complete is as follows:

Inspired? Watch our video featuring interviews with our recent graduates and trainee pilots here >>
Request an Admission Pack